A fond farewell and welcome
President Dennis M. Hanno has done some amazingly important work here at Wheaton, but on a personal level what I treasure most is his sense of fun, starting with his first days on campus when he allowed buckets of ice water to be dumped on his head for a charitable cause, inspired by the Ice Bucket Challenge that promotes awareness of ALS.
He was barely a week into his term as our eighth president and there he was nicely dressed in khaki pants, a shirt and tie (which he covered in a T-shirt for the challenge). Sitting in a folding chair on the lawn between Mars Center for Science and Technology and Haas Athletic Center, he waited as a giant bucket of water was held over his head and then dumped as a crowd cheered.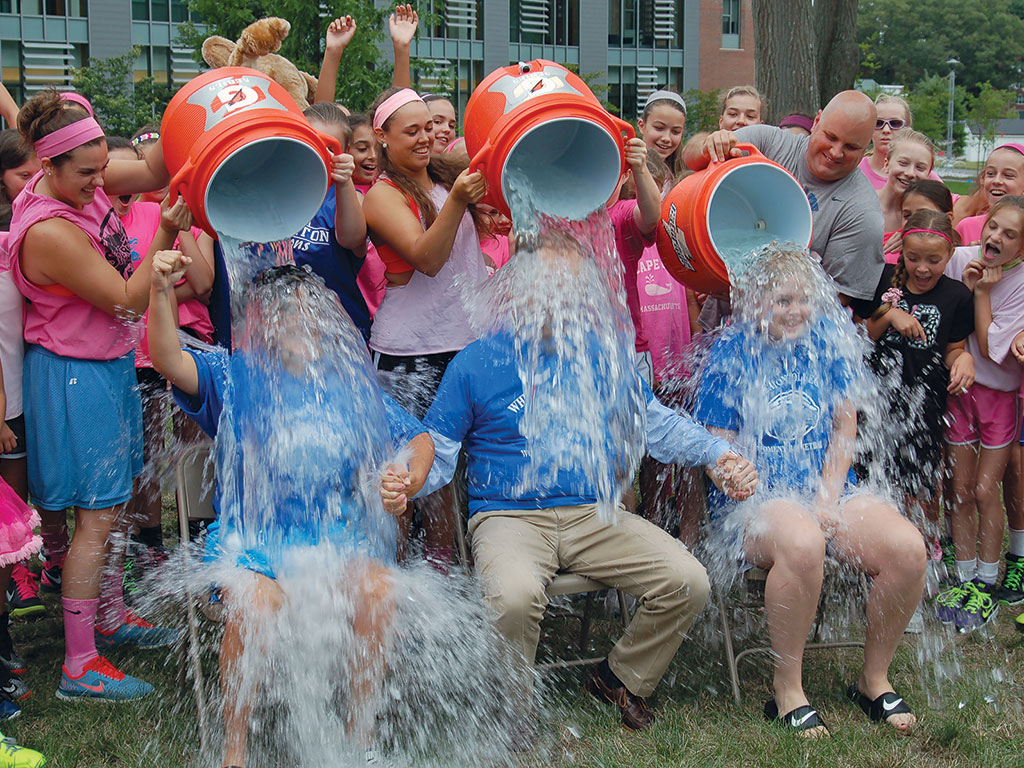 Once finished, his lovely, gracious and just-as-fun wife, Sue, who was standing nearby, handed him a towel to dry off so he could rush off to change for his next meeting. That sense of unguarded engagement with the campus community has continued all these years.
I've had the privilege of working with him to create several videos that required hours of his time, often on a weekend, as well as a good-hearted nature as we repeated scenes over and over to get them just right. And I've enjoyed watching him and his best bud, Roary, who often starred alongside him. (I have outtakes of the two of them dancing between takes. And most people don't know this, but Sue handmade lots of wardrobe items for Roary for our video shoots.)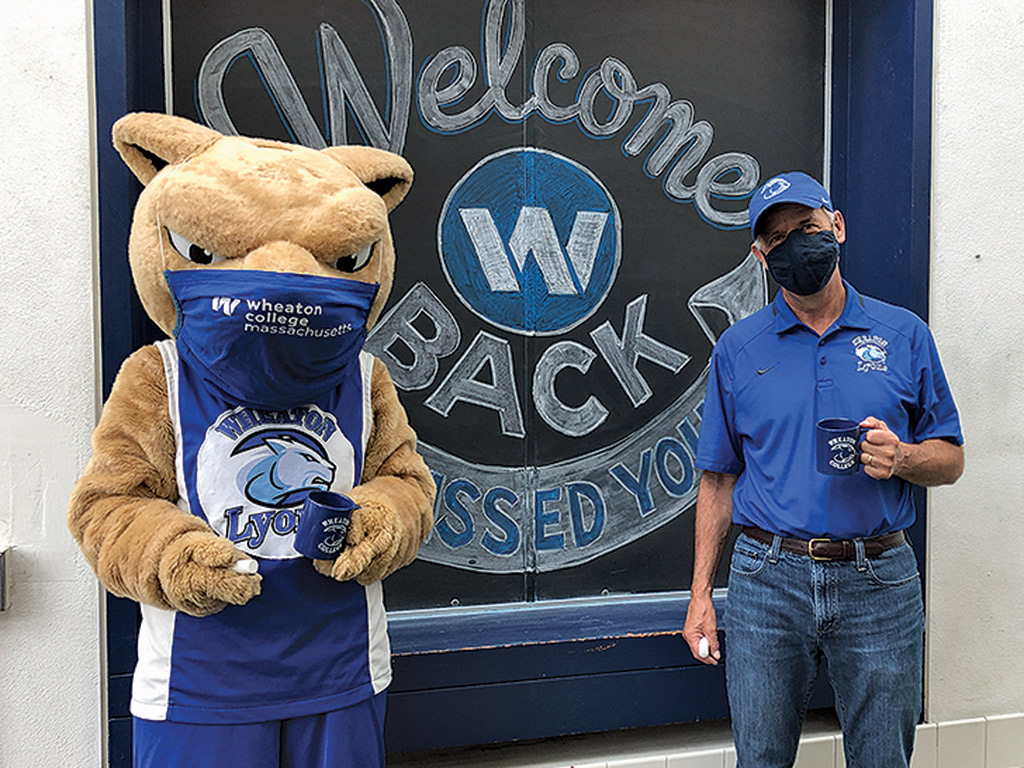 Dennis has willingly allowed pies to be thrown at him during a recent "Pie the Professor" event. Once he allowed his hair and goatee to be painted blue, keeping his promise to do so if the Class of 2016 reached a certain participation rate in their senior class gift to the Wheaton Fund. And who can ever forget the times he has climbed aboard the winning "boat" after the Peacock Pond regatta in a suit to ride across the water?
Even during the challenges of the pandemic, he has maintained his sense of humor while showing us the best of what it means to be human and a caring member of a campus community.
As we bid a fond farewell to him as president, we hope his memories of Wheaton bring him just as much joy.
In this issue, our cover story focuses on the presidential transition. We celebrate Dennis's accomplishments, and, with great excitement, we welcome our ninth president, Michaele Whelan. During the photoshoot for the magazine cover, I enjoyed meeting Michaele and her husband, Peter Wiederspahn, for the first time. I can't wait to get to know them, too.
We thank President Hanno for the remarkable legacy he is leaving and we look forward to the history President Whelan will make.