A doctor's view of COVID-19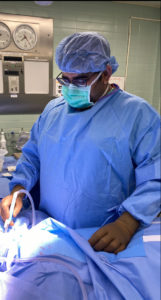 Zaheer Faizi '10
Medical doctor, second-year general surgery resident
Crozer-Chester Medical Center, Upland, Pa.
Dr. Zaheer Faizi '10 is on the front lines of the COVID-19 pandemic. The doctor, who works 80 hours per week treating patients in the trauma bay and critical care unit, said managing the risk of contracting the coronavirus is a daily reality.
"There is uneasiness in the air because we don't 100% know what we're dealing with and how it affects people," he said. "We know we are on the verge nationwide of having a supply shortage in terms of personal protective equipment for health care, and for anyone who comes in contact with patients. That is a concern."
As the virus can travel by air, measures to isolate patients are more important than ever, he said. Some precautions the hospital has implemented include delaying elective surgeries, restricting visitors, limiting the providers' contact with patients and enforcing rigorous hand hygiene practices.
"In any emergency surgical procedure, I may get sick with the virus during that split second I don't take to protect myself. There might not be a person to replace me because my colleagues are getting sick, too, which is a problem," he said.
Dr. Faizi said pandemics aren't new, citing Severe Acute Respiratory Syndrome (SARS), Middle East Respiratory Syndrome (MERS) and the Spanish flu from 100 years ago. However, the rate of the spread and impact of COVID-19 is astonishing.
"A lot of physicians knew this day was coming. But while SARS and MERS were more contained, the level that this virus is ravaging people is quite unbelievable," he said.
While the fatality rate is higher for older patients, younger people still need to take the coronavirus seriously, he said. "There have been cases with people in their 20s and 30s. I know the case of an athlete in his 20s, a basketball player, in an intensive care unit somewhere in this country who was in top physical shape. Furthermore, even if they have a milder case, they can still spread to other more vulnerable members of society."
Dr. Faizi urged everyone to stay home—especially people who are not working essential jobs in healthcare and other industries. Help neighbors, especially the elderly, but do so in a way that limits contact, he said.
"Stay home. Spend the time with your family. Wash your hands. If you have someone deliver something, have them leave it on the porch and pick it up after they leave," he said. "You wouldn't go out into a really bad snowstorm. This is the worst of snowstorms and it's going to last a while. So, you've really got to hunker down."
The coronavirus has impacted the doctor personally; he has lost a family member to the virus and three of his sisters are physicians in New York City-area hospitals heavily impacted by COVID-19. Despite personal risks that he and his colleagues inherently face, Dr. Faizi said he became a physician because of a desire to help people and is committed to showing up every day to fight against COVID-19.
"As physicians, it's our commitment to go out there and help people," he said. "No matter how bad the storm gets—much like the Coast Guard flies out in the middle of a storm to save people—we will keep showing up for our patients."
Dr. Faizi graduated from Wheaton with a bachelor's degree in political science. He received his medical degree from SABA University School of Medicine. He did his surgical internship at Columbia University Harlem Hospital Center.