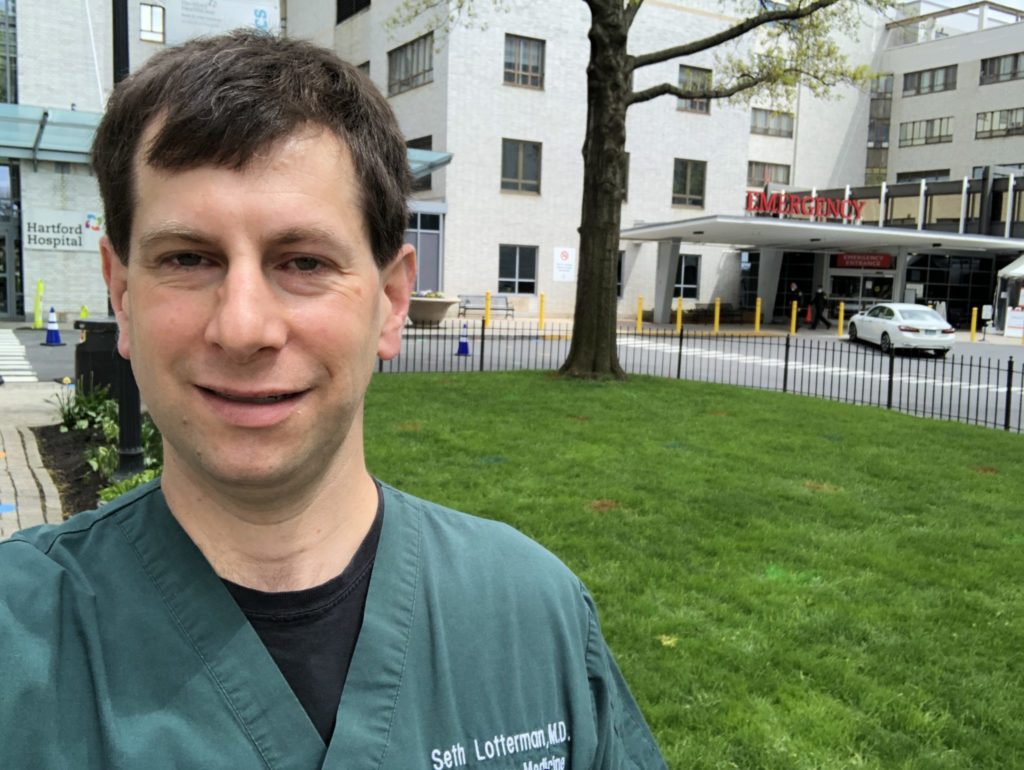 Seth Lotterman '99 reflects on the quiet intensity of the emergency room
By the time Seth Lotterman '99 arrived at Wheaton College, he knew he wanted to be a doctor. He loved helping people and had a passion for science and an inclination toward leadership.
At Wheaton, the student-athlete balanced coursework in biology, his chosen major, with four seasons on the men's indoor track team—serving as captain his final year.
"An opportunity to volunteer at Sturdy Memorial Hospital [in Attleboro, Mass.] while I was at Wheaton, as well as a classmate convincing me to take an EMT course one summer, helped solidify my career choice," said Lotterman, who graduated from Albert Einstein College of Medicine of Yeshiva University in New York.
For nearly 20 years, he has been living out his dream as an emergency room physician.
But these days have been different. Ask him to describe what it's like at Hartford Hospital during the coronavirus pandemic and the picture he paints is unexpected: quiet.
"We are a fairly typical busy urban emergency department that sees a high volume of sick patients. It is fairly chaotic and loud most days. That has changed significantly over the past month and a half. We are seeing about two-thirds of the typical daily volume and since there are now no visitors allowed, the department is much quieter," he said.
The volume may be lower, but his work is as intense as ever. The physician frequently cares for older patients in advanced stages of infection from COVID-19. These patients may need to be placed on a breathing machine for respiratory support, or may even be in cardiac arrest and require cardiopulmonary resuscitation.
"We are caring for many more critically ill patients and needing to make decisions on life support much more frequently than we had before. It's especially challenging to have discussions over the phone with families about end-of-life care and even informing families a loved one has died, which we would previously have gone to great lengths to do in person," Lotterman said.
The physician further attributes the quiet to people avoiding the emergency department, even when they have symptoms that require medical attention.
"Do not ignore warning signs and symptoms of a medical emergency—like difficulty breathing, changes in mental status, chest pain, fainting or loss of consciousness, feeling suicidal or having serious injuries," he advised.
One of Lotterman's biggest challenges is reducing exposure to the virus. He is careful to wear his mask and personal protective equipment at all times when on duty. Before returning home to his wife and three school-aged daughters, Lotterman changes out of his scrubs and does not wear his work clothes home.
"Both at work and home, COVID-19 has definitely been life-changing. It has been amazing to watch the public health system, along with government officials, hospital employees and laypeople, come together to help each other, while at the same time, taking social distancing seriously to decrease the spread of this pandemic," he said.
"I do feel very privileged to work with a dedicated group of physicians, nurses, technicians and environmental services employees who come to work every day and work very hard and do an amazing job," he added.