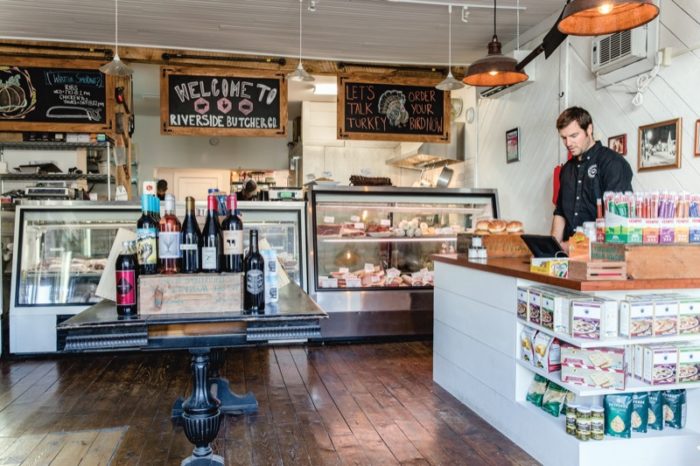 August Avantaggio '09 launches successful butchery business
August Avantaggio '09, a self-described lifelong learner, enjoys both formal education in the classroom and teaching himself trades and crafts.
After delving into various experiences—including nonprofit work in Guatemala and carpentry in Maine—he staked a claim to his hometown of Damariscotta, Maine, by opening up a butcher shop.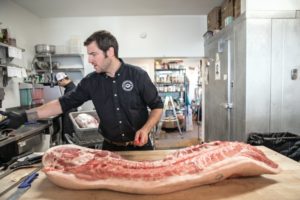 "The inspiration to open the business came from brainstorming a way to be able to live in my hometown, but on my terms," Avantaggio said, adding that his great-grandfather and grandfather were both Italian grocers.
"The town in which we live has a very strong local food scene and so I felt that a butcher shop that sold mostly local meats would be well-received and well-supported. Thankfully up to this point I have been correct," he said.
The butcher shop, Riverside Butcher Co.—which first opened in May 2016—has gained notice. Avantaggio and his business recently were spotlighted in the Portland Press Herald.
Avantaggio sells local meats year-round. In the summer, ground beef and house-made sausages are popular; during colder months customers commonly request pot roasts and pork loin roasts.
Associate Professor of History John Bezis-Selfa—Avantaggio's advisor at Wheaton—is not surprised by his former student's success.
"He has an adventurous spirit and voracious curiosity," Bezis-Selfa said. "He has an unusually clear sense of what he wants and someone who is OK with changing or abandoning course if the journey doesn't seem right to him, even if he finds the destination appealing."
After Avantaggio returned from studying abroad in Chile, he considered undertaking an honors thesis on Chilean military rule.
"Once he realized that time and distance would prevent him from doing the project that he wished to do, August simply called it quits and moved on," Bezis-Selfa said. "Last time we talked, he informed me he was building heritage barns in Maine and was contemplating opening a butcher shop. I did not doubt it when August also told me that he was using what he learned as a history major at Wheaton every day."
Avantaggio said that Bezis-Selfa always pushed him to explore his curiosities and strive for excellence.
Also, he said he actively uses his liberal arts education. "Being trained to think critically has allowed me to continue my education outside of the classroom. I had little business experience or training before undertaking this project, but I was confident that I had the skills to teach myself most of what I needed to know."
Avantaggio also said his time as a student-athlete on Wheaton's rugby team "taught me the importance of finding an activity that helped make college more than just about classroom learning," he said.
Wheaton honed his ability to seek out the information he needs. "I utilized the expertise of friends and contacts who have been down the startup road before. Without the critical thinking and problem-solving skills I received at Wheaton, my path in life could, and probably would, be very different," he said.