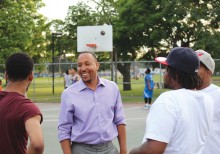 A devotion to community service and social responsibility has defined the life and career of Khrystian King '95. Now he is putting his beliefs into action as Worcester's newly elected city councilor.
"I am proud to be the first black male elected to the Worcester city government in 80 years," said King, who won the election in November 2015. "Representative government is an evolving reality here in Massachusetts, and I am honored and humbled to be a part of it."
King's political accomplishment follows a long, successful career as a social worker and community volunteer.
It began when, as a young man and first-generation American, he witnessed the terrible impact of violence in his community. (His parents emigrated from Bermuda.)
"By the time I reached my twenties, I had lost three friends to gun violence in Worcester," King said. "In fact, as a sophomore at Wheaton, I found it was these experiences that steered my academic course of study."
King, a student-athlete on the men's basketball team, graduated from Wheaton with a bachelor's degree in social psychology, and completed his thesis on the socialization of black males in America.
Among the faculty who influenced him were Professor of Sociology Kersti Yllo, Professor Emeritus of Psychology Derek Price and William Thompson, a visiting professor of sociology who taught classes on social change, race and ethnicity, King said.
"These professors allowed academic pursuit and enlightenment in the areas of social justice while focusing on the scientific study, treatment and analysis of individual and collective behavior," he said.
At Wheaton, the visit of author Deborah Prothrow-Stith to discuss her book Deadly Consequences—which described youth violence as a public health concern—and his volunteer work at Hasbro Children's Hospital both inspired King to work on behalf of youth, he said.
After graduation, King pursued a master's degree from Simmons College School of Social Work, for which he completed a clinical internship at St. Vincent's Hospital in Worcester. In this role, he provided therapeutic support to parents with addiction issues and their children.
"This experience really helped solidify my character," he said.
King eventually became an outreach adolescent counselor, front-line adolescent protective social worker and emergency response child-welfare investigator for the Massachusetts Department of Children and Families. He also earned an M.P.A. certification from Suffolk University's Center for Public Management in Boston.
As a volunteer, King transformed his love of basketball into a way to positively engage local youth. He coaches various teams and serves as director for an inner-city basketball league. He also helped establish Worcester's first Amateur Athletic Union Girls' Basketball program, which provides grassroots-level sports programs for all ages.
Now, as newly elected city counselor, King is eager to hit the ground running.
"I want to focus on what I ran on—trying to make a difference for our youth with a community perspective, putting public safety first and working across neighborhoods," he said. "It's the public trust, and it is humbling to earn an opportunity to serve your neighbor. I'm looking forward to working with my respected colleagues, learning the job and keeping my word."
King said his Wheaton connections helped him get to where he is today.
"If it were not for the significant support of Sabatino Guerriero '95, Mahlon Williams '95, Will Hawkins '93 and Drew Goodman '94—my fellow alums and former basketball teammates at Wheaton—this would not have been a viable campaign. I am indebted not only to the education I earned at Wheaton but to their lifelong support," he said.