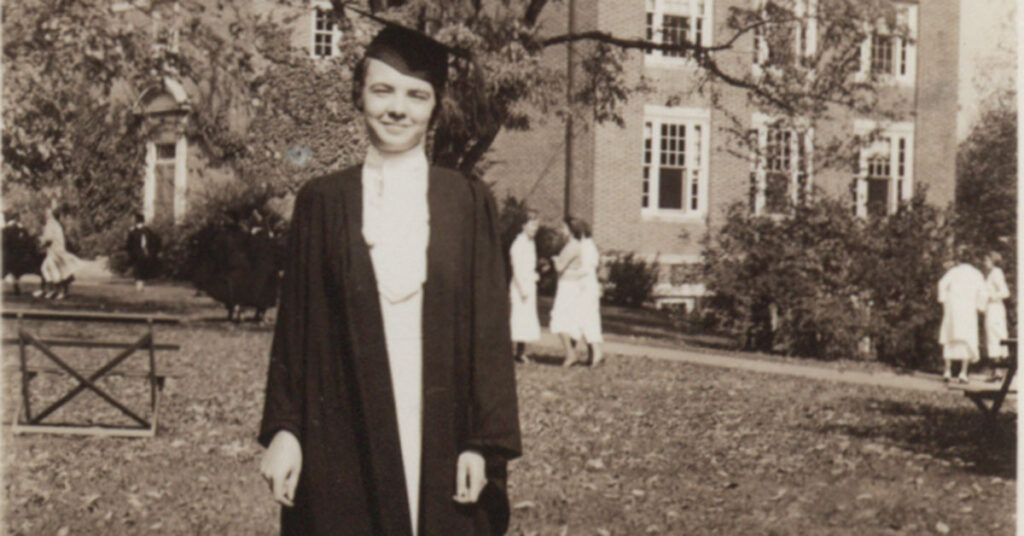 Professor Tim Harbold transforms late student's poems into choral music, lasting impression
Collaboration between students and faculty is a hallmark of a Wheaton College education. But Professor of Music Tim Harbold, who conducts the Wheaton Chorale and Chamber Singers, has gone a step further: through his music, he is keeping alive the spirit of a gifted Wheaton poet, who died almost 90 years ago.
He also is showing his students the importance of community building and storytelling through choral music. "As with all faculty scholarship, the students are the beneficiaries when the faculty are not only teachers but active scholars and artists who involve students in their work," he said.
Harbold's choral song cycle "Song of My Heart" sets to music poems by Elizabeth Wright Shippee, a member of the Class of 1937. Early versions of the first two movements were performed in 2000 by the Wheaton Chorale, and in 2001, the chorale sang the piece in its entirety. In 2017, Harbold made substantial edits to the piece, including the addition of a piano part. The revised piece was performed by Wheaton's Chamber Singers that year.
The piece now has an even broader audience. It was recorded in February 2022 by Ensemble Altera, a Rhode Island-based professional chamber choir and can be heard on YouTube.
An honor student who majored in art, Shippee grew up in Pawtucket, R.I., and enjoyed spending time alone in the woods near her family's farm in Foster, R.I. In the summer of 1933, anticipating the start of her first year at Wheaton, she penned a collection of 14 poems, inspired by the forest and its lessons of life, death and rebirth.
On Oct. 18, 1936, during her senior year, Shippee was killed in a car accident as she and three other Wheaton students were returning to campus from a Boston Symphony Orchestra concert.
After her death, Shippee's parents donated a collection of her writings and photographs to the Wheaton archives. It was there, in 2000, searching for inspiration for a new composition, that Harbold discovered the poems. He chose four, "similarly organized around nature themes," to set to music. "She gave me beautiful images to work with," he said. "It was like painting with music."
It was the poignancy of these works and Shippee's tragic story that intrigued Harbold. "Sadly, Elizabeth was denied the poetic beauty she saw in aging through life's seasons," he wrote in his composer notes for the musical score.
The time and energy that Harbold has put into "Song of My Heart" are evident in the recording. The four movements—featuring voice, piano and flute—transport the listener to a forest. A flute is a bird song. The piano mimics raindrops, and soprano voices evoke the sound of a summer breeze.
Harbold is grateful for faculty scholarship funding from the college that allowed him to hire Ensemble Altera to record the piece. His hope is that the quality of the recording will garner the attention of music publishers as he sends "Song of My Heart" out for consideration.
Whatever the outcome, Harbold has achieved his original goal, "to celebrate the college by pairing the artistry of a Wheaton poet and a Wheaton composer in the creation of music that would be performed by Wheaton singers."—By Mary Howard '85