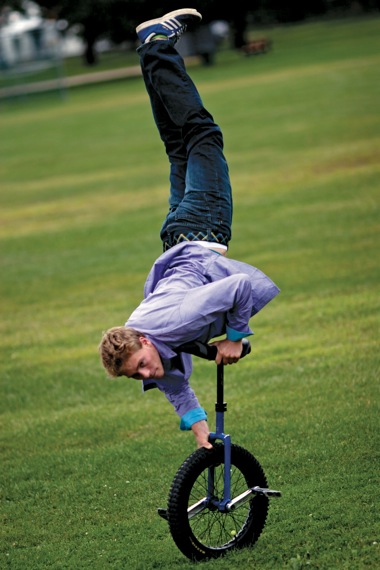 At first glance, there appears to be little crossover between software engineering and circus arts.
But for computer science and interface design major Taylor Wright-Sanson '13, an iOS developer and skilled circus performer, the two disciplines complement each other nicely.
"Each requires very specific and practiced skills to solve problems," says Wright-Sanson, who in January 2015 joined education technology startup Kaymbu in Cambridge, Mass., as its lead iOS developer. The Wheaton alum also is a longtime circus performer who regularly performs for Wunderle's Big Top Adventures, which provides entertainment at festivals, corporate events and holiday shows.
For the circus arts, problem solving is both physical in nature and requires some mental acrobatics, he said. "Not only does an act need a good trick, but you have to know if those tricks will flow well together."
Performers may opt for a simpler trick over a more complicated one if it displays better to the audience. "For example, I will most likely get a better response from an audience for juggling three apples while eating one over juggling five balls—even though juggling five balls is much harder."
Working as a developer is not as physical (although Wright-Sanson is talented enough to type and unicycle simultaneously), but it requires an ability to efficiently and effectively solve problems so users have a positive experience with an application. At Kaymbu, he is working on an app called Daily Note, which is designed to help teachers take daily notes of their students that can be easily shared with parents. In just one month, teachers used Daily Note to send more than 53,000 notes to parents.
"I'm my strictest critic when it comes to any app I build or act I create. I want my audiences to have the best experience possible," he says.
Wright-Sanson, who many students remember for his unicycle antics on campus, credits Wheaton for helping shape his success as a computer scientist and an artist. He cited many professors who guided him along the way—including his advisor, Professor of Computer Science Mark LeBlanc.
"What I most appreciated about him was when I came to him with an idea, he wouldn't ever say, 'You can't do that' or 'That's not how it's done.' He would say, 'All right, let's see how we can do this,'" he says. "That attitude is one I try to bring into all of my work."
Associate Professor of Computer Science Tom Armstrong supported his innovative side. "He was always game for knitting a scarf that plays 'Jingle Bells' with LEDs that synchronize to the beat, or building a Klein bottle out of Legos," he says.
Claudia Fieo and Andy Howard, both professors of art, pushed him to take his creative talents to a new level, "in ways I've been able to easily apply to any work I do, whether it be in iOS development, performance or a new art project," he says.
Photos by Robert Sanson