2020 MLK Legacy Awards presented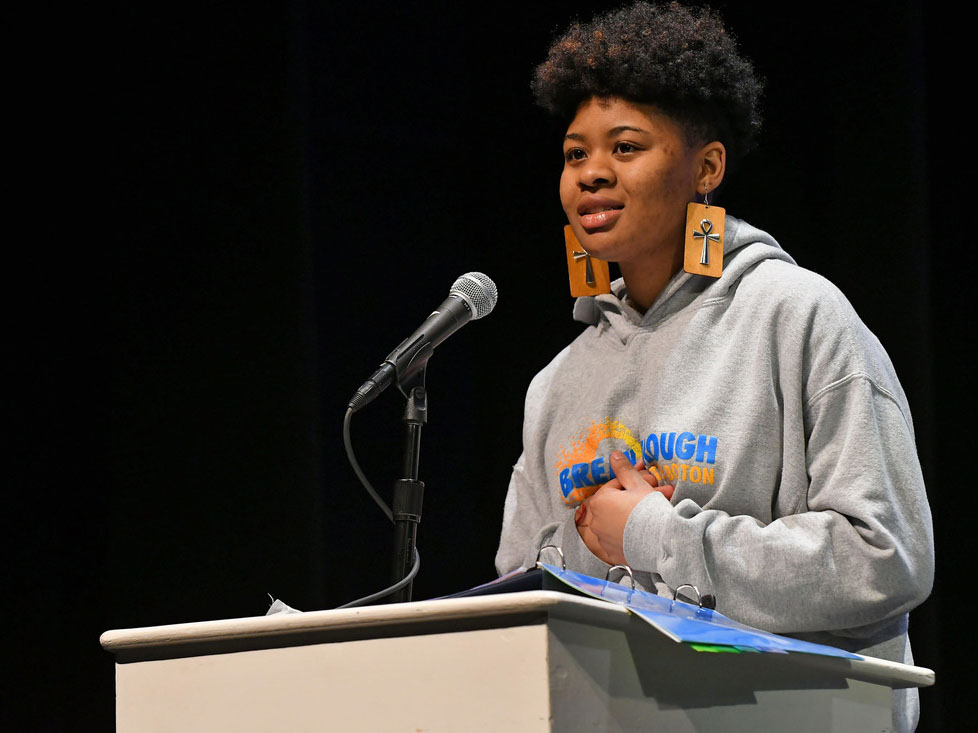 Wheaton honored the legacy of the Rev. Dr. Martin Luther King Jr., on Tuesday, February 18, in Weber Theatre, with a keynote delivered by scholar, author and civic influencer Khalilah Brown-Dean and the presentation of the MLK Legacy Student and Staff/Faculty awards.
The college hosts this annual celebration in King's honor in February, as King's birthday falls during winter break.
Lindsey Lorine '20 received the 2020 MLK Legacy Student Award. In her nomination, Lorine was described as "a passionate and creative student who has impacted the Wheaton community in various ways."
"[The student award] winner is courageous, colorful and bold. She unapologetically stands for who she is and what she believes in. She holds human dignity to the highest standard and continuously sets an example for others to do the same," according to the nomination.
A thoughtful writer and poet who has shared her work on campus, Lorine has served in various leadership roles, including being an orientation coordinator; a member of the executive board of iSpeak, Wheaton's spoken-word poetry group, and Queer and Trans People of Color. She also is a member of the Black Student Association and has been a dedicated intergroup dialogue facilitator for several years.
Shaya Gregory Poku, dean for equity, social justice and community impact, received the 2020 MLK Legacy Staff/Faculty Award.
From her nomination: "[Shaya] is a valued colleague and a well-respected member of the Wheaton community, who has made a significant impact. She is knowledgeable and well versed on social justice issues locally, domestically and globally. She educates, challenges and supports our students and our community to deepen their understanding and become more involved in social justice issues."
Gregory Poku brings her knowledge and passion to the various roles she holds on campus, including the leadership team of the Diversity, Equity and Access Leadership, and the Curriculum Implementation Team.
"She has transformed the Chapel Base into a dynamic center for our college and has served as a valuable advisor to individual students and clubs. Equal Pay Day, two new pre-orientations to support first-gen and LGBQT+ students, developing a First-Gen Living Learning Community and a thoughtful Holocaust Remembrance program are but a few of the initiatives undertaken by SJCI under Shaya's leadership," according to the nomination.
Also recognized at the event and earlier in the day with a reception at Emerson Dining were the three winners of the annual Creativity Showcase, which highlights student creative work (written, spoken, visual and otherwise) that reflects King's philosophies and principles of equity, justice and peace. Winners included: First place, Steven Flowers '20, "Wounds Heal"; second place, Kavita Premkumar '22, "The Other America"; and third place, Genesis Maldonado '20, "Save You Maybe."
> See more photos from the event