Double Your Impact 
Did you know many companies offer matching gift programs and volunteer grants to encourage philanthropy among their employees? And that some companies will even match to spouses and retirees? Through corporate giving programs, companies love to amplify their employee's good deeds to qualifying nonprofit organizations, like Wheaton College!
Common Questions
WHAT ARE EMPLOYEE MATCHING PROGRAMS?
Employee matching gift programs are corporate giving programs in which the company matches donations made by employees, spouses of employees, and sometimes retirees to eligible nonprofit organizations. It's an easy way to double your contribution to Wheaton!
WHAT ARE VOLUNTEER GRANT PROGRAMS?
Volunteer grant programs are corporate giving programs in which companies provide monetary donations to organizations where employees volunteer regularly. If you volunteer with us, it's an easy way to provide Wheaton with additional financial support!
HOW DO I REQUEST A MATCHING GIFT OR VOLUNTEER GRANT?
Requesting a matching gift or volunteer grant is normally a five-minute process that the donor/volunteer must initiate. You can do this by filling out and submitting a paper match form provided by your employer or through an electronic submission process. By searching your affiliated company above, you can find out more about your eligibility and the company's process.
WHAT IF I STILL HAVE QUESTIONS?
For questions regarding your company's programs, please contact your employer's HR or community giving department. Mich of the necessary information is also available on your company intranet.
For questions regarding submitting a matching gift or volunteer grant request to Wheaton College, please contact the Wheaton College Matching Gift Team at wheatonfund@wheatoncollege.edu or 508-286-8226.
A Year in Review
Last fundraising year, 71 donors amplified their impact and joined alongside other alumni, parents, and friends of the college and had their 2019-2020 Wheaton contributions matched by their employers.
Their collective impact is the equivalent of providing these additional resources to Wheaton's students and faculty:
18 Wheaton Fund Scholarships, which 9 out of every 10 students receive some portion of their tuition from.
12 Internship stipends are provided through the Filene Center for Career Services and help enrich students' career and personal development.
10 Faculty training grants help Wheaton's faculty advance their theory and practice within their field of expertise.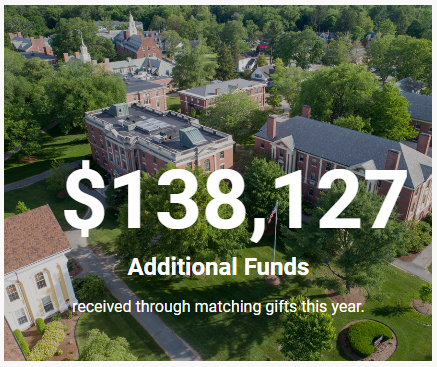 Top 10 Matching Gift Companies
While Wheaton receives matching gifts from numerous companies on behalf of our supporters, here is a snapshot of the top 10 matching gift companies our alumni, parents, and friends are affiliated with:
Bank of America
Fidelity Investments
General Electric Corporation (GE)
IBM Corporation
Aetna
Merrill Lynch
John Hancock Life Insurance Company
General Dynamics Corporations
Oracle Corporation
GTE Corporation
Don't see your company on our Top 10 List?
Matching Gifts Impact
Over the last five years, Wheaton College has benefitted tremendously from the generous donors who have chosen to direct their matching gift contribution to the college. Below are a few statistics that demonstrate these donors' charitable support!
$125
Average Matching Gift
The college has received hundreds of additional donations through matching gift programs. These donations ranged from $5 all the way up to $25,000!
$650K
Dollars Raised
Matching gifts have raised over half of a million dollars to benefit current students and faculty!
200+
Donors Participating
Over 220 Wheaton donors have utilized their employers' matching gift programs to double their impact!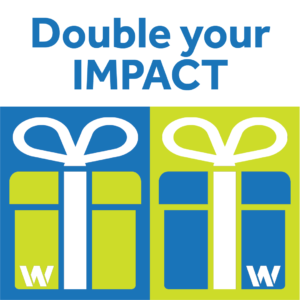 By maximizing your annual contribution with a matching gift or amplifying your volunteerism with a volunteer grant you ensure that the college can provide a wide variety of student learning experiences, both in and out of the classroom. So, thank you for considering to double your impact!
For general questions or inquiries please contact the Wheaton College Matching Gift Team:
Email: wheatonfund@wheatoncollege.edu
Phone: 508-286-8226