What a difference a gift makes!
Gifts to the Lyons Athletic Club make an extraordinary difference in the lives of Wheaton's student-athletes.  They help provide everything from new uniforms to specialized equipment to strength and conditioning coaches.  "By supporting your team and/or the general athletics department, you enrich the experience of student-athletes at Wheaton and help to shape the people they will become," says John Sutyak '00, director of athletics and recreation. "One hundred percent of your gifts to the LAC go straight to the team of your choice or the athletic department."
Direct benefits
First, of course, gifts directly aid Wheaton's student-athletes.  Recent gifts to the men's and women's swimming and diving teams, for instance, have equipped the 60 team members with unique machines that are immersed in the water and give swimmers specialized weight training, explains Barrett Roberts '07, NEWMAC coach of the year (women's) and co-coach of the year (men's).  In addition, when the teams traveled to Florida for winter break, several friends of the team stepped up to feed the hungry athletes "incredibly well."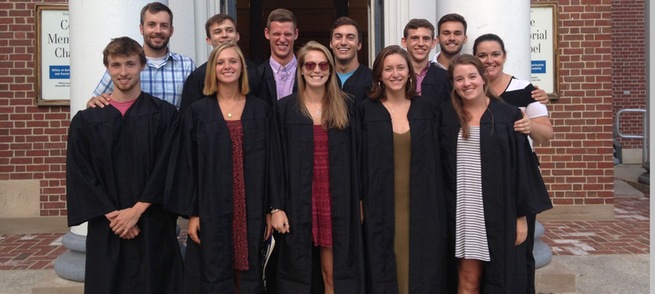 The generosity of track and field alums, too, has "been instrumental in providing opportunities for all of my student-athletes," says Kim Spence '04, men's and women's cross country and track and field coach. "We have been able to use a portion of these funds to travel, help buy a variety of equipment from high jump mats and starting blocks as well as to provide the entire team with t-shirts at the NEWMAC Championships."
A culture of giving
In addition, your generosity instills in today's student-athletes the value of giving back.  "It establishes a culture of giving," says Roberts.  "A lot of what we have is because of alumni and parents taking care of us."  Current athletes take note; Roberts is very proud that even the 2017 graduating seniors have contributed to this season's team.
Your Gifts at Work
Your gift can have a direct impact on an individual student-athlete, a team, or the general athletic program.
The value of your gift
$50 – Helps to fund one additional student-athlete at post-season competition
$100 – Provides warm-ups for one swimmer, diver or synchronized swimmer for the entire season
$250 – Purchases airfare for one softball or baseball player to compete during spring break
$500 – Pays for game balls for one of our two soccer teams each year
$1,000 – Supports a team meal for one of the lacrosse teams during spring travel
$2,500 – Funds the purchase of hardware and game analysis software for one of our two basketball teams
$5,000 – Pays for the cost of streaming all home athletic contests so alumni and parents around the world can follow their team
$10,000 – Provides annual funding for our strength and conditioning service, or for the services of a sport psychologist to assist our student athlete's performance in competition and in the classroom
One student-athlete's story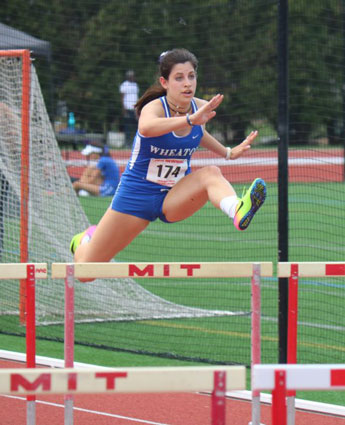 Wheaton senior Raevyn Fontaine, whose track and field career is replete with honors, credits her team for her success and names her coach as the biggest influence on her college experience.
"Every time I put my uniform on, I am proud to be representing Wheaton.  I would not be where I am today if it weren't for my team," she says.  "If I have learned anything by being on a team at Wheaton it's that I can go far on my own, but I have my team to thank for it."
Coach Kim Spence '04 has been Raevyn's greatest support, particularly last year, when she was a national finalist in the 100 meter high hurdles, and "parental figure".  "Aside from the athletics, every time I cried about homework or needed to blow up about something that made me mad or even just to say how great life was, it always happened in her office," she says.