Wheaton to the World
November 8, 2019 @ 12:30 PM

-

7:00 PM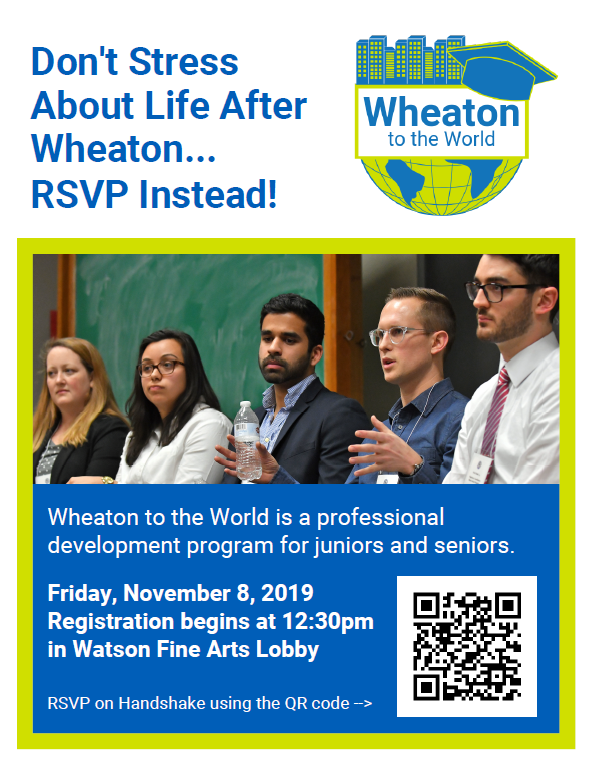 Wheaton to the World is a professional development event for juniors and seniors to help them prepare for life after Wheaton. Registration begins at 12:30pm in the Watson Fine Arts Lobby.
The event will include:
How to Tell Your Story | Trish Ryan'91, Author, Pastor, Speaker & Writing Consultant
Life after Wheaton | Andres Ripley '18, Assi Coulibaly '17, Allison Mosier '19, Mehreen Khan '17
Financial Literacy | Meghan Kass and Susan Beard '90
Public Speaking | Jen Madden
Social Justice in the Workplace | Shaya Gregory Poku, Director, Center for Social Justice and Community Impact, Tatiana Havens, VISTA, Center for Social Justice and Community Impact
Wellness on a Budget | Lauren Hynes, Nutrition Director, Meredith Walsh, Wellness and Fitness Director, Hockomock Area YMCA
Etiquette Dinner | Janet Parnes, Etiquette Consultant
Professional attire is requested at this event. Please plan accordingly if you wish to take advantage of the bar. ID will be required and only students over the age of 21 will be served.