Spring into Wellness Week – Day 4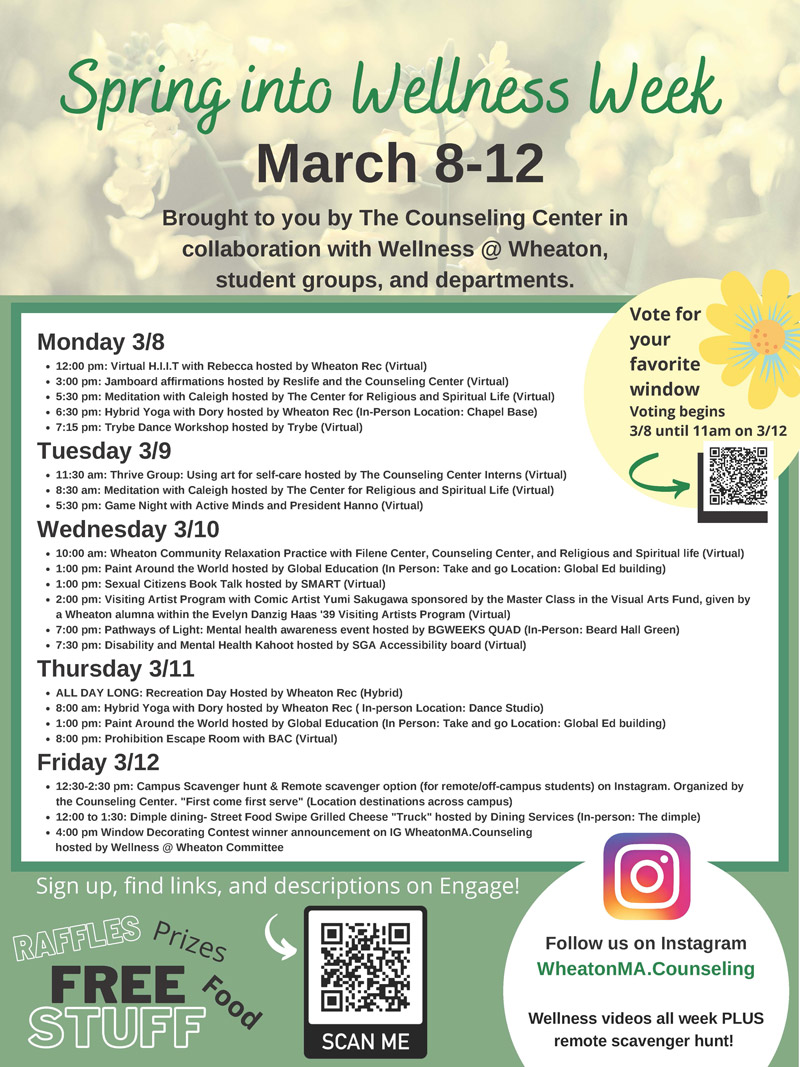 The Counseling Center is once again excited to sponsor Spring Into Wellness the week of March 8-12, 2021. Spring Into Wellness is a week full of co-sponsored (virtual and in-person) events surrounding your physical, mental, and emotional health. This week culminates with a campus-wide scavenger hunt.
A remote scavenger hunt is also available for students who are remote, live off-campus, or in quarantine/ isolation: Follow WheatonMA.Counseling on Instagram for the remote scavenger hunt details!
Sign up, find links and descriptions on Engage!
Schedule of Events – Thursday 3/11
ALL DAY LONG: Recreation Day Hosted by Wheaton Rec (Hybrid)
8:00 am: Hybrid Yoga with Dory hosted by Wheaton Rec ( In-person Location: Dance Studio)
1:00 pm: Paint Around the World hosted by Global Education (In Person: Take and go Location: Global Ed building)
8:00 pm: Prohibition Escape Room with BAC (Virtual)
Download the Spring into Wellness Week Flyer (pdf)
Brought to you by The Counseling Center in collaboration with Wellness @ Wheaton, student groups, and departments.