Radical Visibility: A Queercrip Dress Reform Movement
April 12 @ 5:30 PM

-

6:30 PM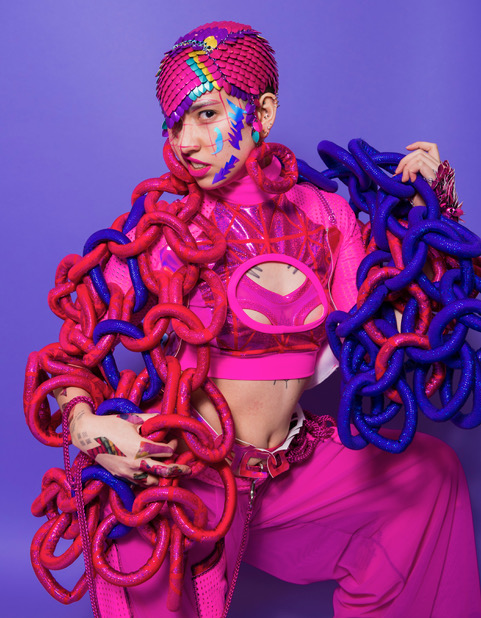 Join multidisciplinary artist Sky Cubacub, who created Rebirth Garments in 2014. Rebirth Garment's mission is to create gender non-conforming wearables and accessories for people on the full spectrum of gender, size and ability. The line creates a community where all people can confidently express their individuality and identity. Trans and disabled communities have clothing needs not adequately served by mainstream clothing designers. Instead of being centered on cisgender, heterosexual, white, thin people, Rebirth Garments focuses on the needs of disabled queer lives, with an emphasis on radical visibility and joy.
Sky is a non-binary xenogender and disabled Filipinx queer from Chicago. They were named 2018 Chicagoan of the Year by the Chicago Tribune, a 2019-2020 Kennedy Center Citizen Artist, and Disability Futures Fellow. Sky has recently shared their work at the Whitney Museum of American Art, the Rhode Island School of Design, the University of Utah, the School of the Art Institute of Chicago, and Northwestern University. Rebirth Garments has been featured in Teen Vogue, Nylon, Playboy, Huffington Post, Buzzfeed, Vice, Wussy Mag, and the New York Times.
---
Designing for Difference brings innovative design leaders, thinkers and humanists to campus, to celebrate the inauguration of Wheaton's new Design program. Anchored in the History and Theory of Design course, this spring the WIIH asks students, staff, and faculty to challenge the concept of "normal" and reconsider what makes design inclusive.  All events are open to the public.
Presented by the Evelyn Danzig Haas '39 Visiting Artists Program.