Martin Luther King Week Events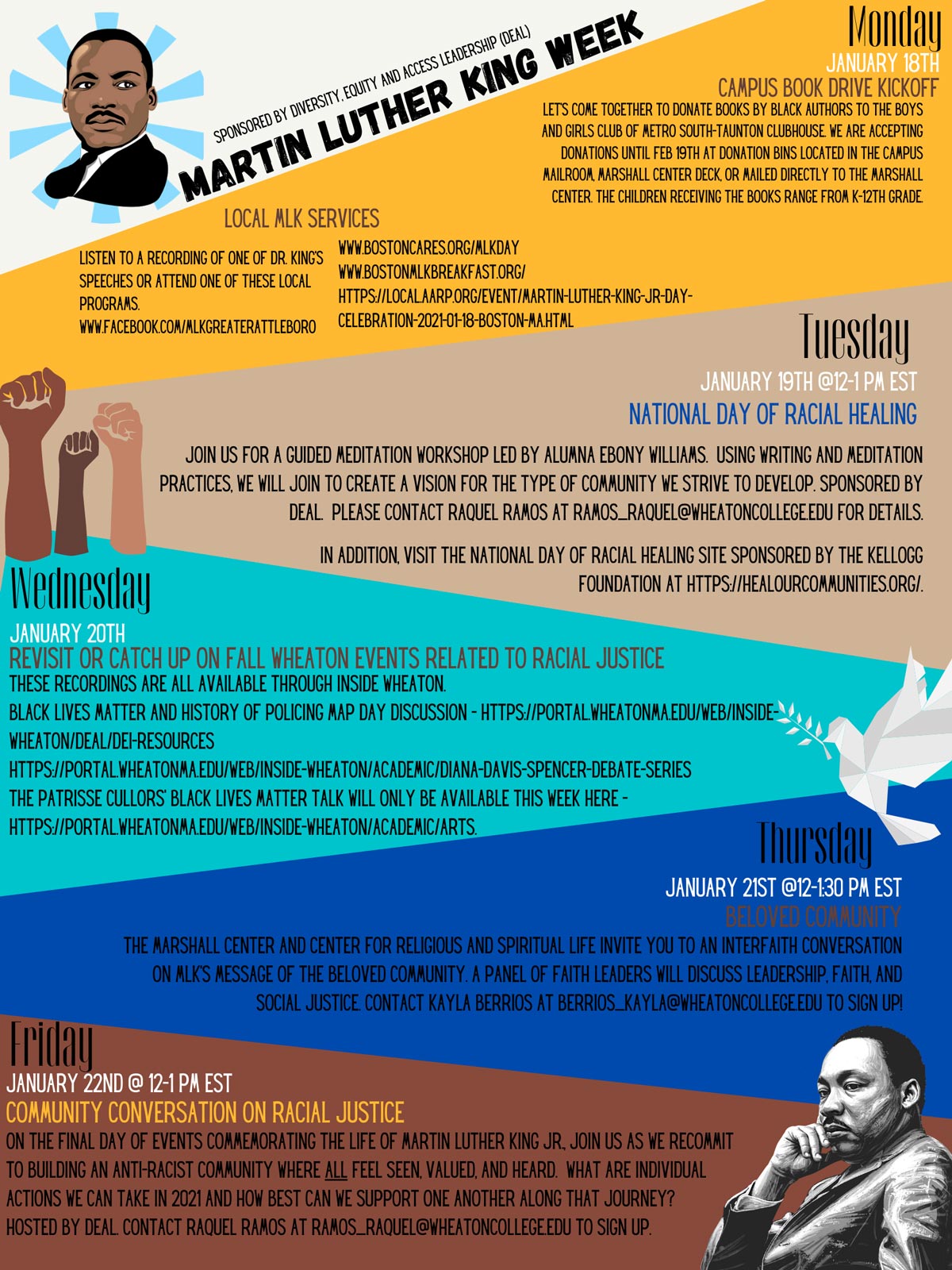 Sponsored by Diversity, Equity and Access Leadership (DEAL): Martin Luther King Week:
Monday, January 18, 2021
Campus Book Drive Kickoff
Let's come together to donate books by Black authors to the Boys and Girls Club of Metro South-Taunton clubhouse. We are accepting donations until February, 19, 2021 at donation bins located in the Campus Mailroom, Marshall Center Deck, or mailed directly to the Marshall Center. The children receiving the books range from K-12th grade.
Local MLK Services

Listen to a recording of one of Dr. King's speeches or attend one of these local programs.

Tuesday, January 19, 2021
National Day of Racial Healing

Join us for a guided meditation workshop from 12-1 PM EST led by alumna Ebony Williams.Using writing and meditation practices, we will join to create a vision for the type of community we strive to develop. Sponsored by DEAL.
Please contact Raquel Ramos at ramos_raquel@wheatoncollege.edu for details.

In addition, visit the National Day of Racial Healing site sponsored by the Kellogg Foundation.
Wednesday, January 20, 2021
Revisit or Catch Up on Fall Wheaton Events Related to Racial Justice

The following recordings are all available through insideWheaton.
The Patrisse Cullors' Black Lives Matter talk will only be available this week under the Arts section

Thursday, January 21, 2021

Beloved Community

The Marshall Center and Center for Religious and Spiritual Life invite you to an interfaith conversation from 12-1:30 PM EST on MLK's message of the Beloved Community. A panel of faith leaders will discuss leadership, faith, and social justice.
Contact Kayla Berrios at berrios_kayla@wheatoncollege.edu to sign up!

Friday, January 22, 2021
Community Conversation on Racial Justice
On the final day of events commemorating the life of Martin Luther King Jr., join us from 12-1 PM EST as we recommit to building an anti-racist community where all feel seen, valued, and heard. What are individual actions we can take in 2021 and how best can we support one another along that journey?
Contact Raquel Ramos at ramos_raquel@wheatoncollege.edu to sign up.