Many Voices, Many American Poetries Festival
October 13 @ 5:00 PM

-

October 14 @ 5:00 PM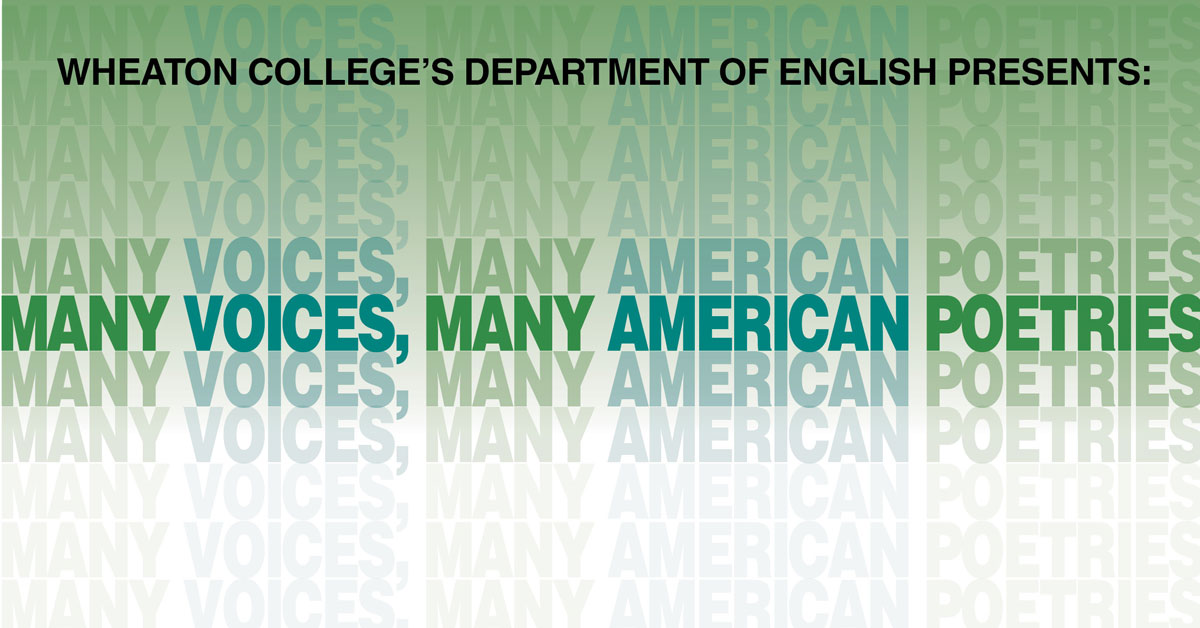 Join us for this two-day festival celebrating the many different representations in American poetry.
The event includes:
Round table discussions attended by poets who are traveling to Wheaton from across the country
A showcase including Wheaton alum and undergraduate students from the Boston area
A reading by a local arts organization
On this page:
---
Day 1 Schedule
Keynote Address
October 13, 2023 |  5:00 p.m.
Watson Fine Arts – Weber Theatre
Oliver de la Paz opens the festival with a keynote address, "Apologia for the Tumbleweed: Some Thoughts on Poetry, Deserts, and Diaspora."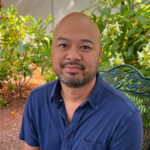 Oliver de la Paz is the Poet Laureate of Worcester, MA for 2023-2025. He is the author and editor of seven books: Names Above Houses, Furious Lullaby, Requiem for the Orchard, Post Subject: A Fable, and The Diaspora Sonnets, The Boy in the Labyrinth, a finalist for the Massachusetts Book Award in Poetry. Oliver serves as the co-chair of the Kundiman advisory board. He has received grants from the National Endowment for the Arts (NEA), the  New York Foundation for the Arts (NYFA), the Artist's Trust of Washington, the Massachusetts Cultural Council, and has been awarded multiple Pushcart Prizes. He teaches at the College of the Holy Cross and in the Low-Residency MFA Program at PLU.
Boston-area Student Showcase
October 13, 2023 |  6:30 p.m.
Watson Fine Arts – Weber Theatre

Students from the Boston area paired with Wheaton alumni read from their original work.
Cheyenne Bates is an alumna of Wheaton College of Norton MA who graduated with the class of 2020. Cheyenne double majored in Creative Writing and Theatre. During her time at Wheaton, her playwriting was highlighted in the Every 28 Hours play Festival. Cheyenne also participated in The Martin Luther King Jr. Showcase where she won an award. She also was a participant in the 10-minute play festival hosted by Wheaton's own playwright-in-residence Charlotte Meehan. Lastly, Cheyenne  spent a semester studying Advanced Playwriting at The National Theater Institute located at the Eugene O'Neill Theater Center where she received her certificate in Advanced Playwriting.
Isabella Cho (Harvard University) is a rising senior studying English at Harvard College. On campus, she is an editor for her undergraduate newspaper and conducts researc h on how technological and cultural forces are shaping employment opportunities in the United States. Her creative and critical writing have been supported by the Mellon Foundation, the Asian American Journalists Association, Harvard Magazine, and YoungArts, among others. She is currently writing her undergraduate thesis, a collection of poems.
Olivia Lee Rui is a Chinese American poet from Reading, MA whose work primarily deals with adolescence, race, generational trauma, adoption, and other life experiences. She writes in a variety of prose, poetry, and playwriting—often all at once. Olivia is a '23 Wheaton graduate still getting her bearings in the world, and wonderfully excited about everything in it.
Isaiah Lopez (Boston College) is a senior English major from the small costal town of Bay City, Texas. He is a first generation college student, as well as a first generation high school graduate. In his free time, he enjoys exploring the many parks of Boston and getting lost in the MFA's many collections. His favorite authors include D.H. Lawrence and Raymond Carver.
Elizabeth Martinez (University of Massachusetts-Boston) is a Latinx poet who specializes in memoir-like poetry. She implements her experiences with mental health to showcase how important it is we take care of ourselves.
Viviana Infante (Brandeis University) is a Junior attending Brandeis University, though she calls her family back in New Jersey home. As a writer, she is often inspired by mythology, folklore and fables, and poems that involve clementines. She often loves to use poetry as a means to work through personal experiences, as well as expand on her understanding of the world and the many ways in which she can view it.
Sara Omar (University of Massachusetts-Lowell) is a Palestinian-American writer who is a student at the University of Massachusetts Lowell. She is inspired by her homeland and seeks to portray the beauty her region has to offer through her writing.
---
Day 2 Schedule
Conflicted Voices Roundtable
October 14, 2023  |  10:00 a.m.
Watson Fine Arts – Ellison Lecture
What does it mean to embody several voices or perspectives, which may be in conflict with each other? Poets on this roundtable openly consider the challenge of finding coherence in a voice, and whether doing so is a worthwhile goal. Poets Afua Ansong and Latasha N. Nevada Diggs field questions from the audience about their work.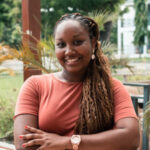 Afua Ansong is an Assistant Professor in Africana Studies at the University of Rhode Island. She recently completed a postdoctoral fellowship at Mt. Holyoke College and received her Ph.D. in English Literature and Creative Writing and MBA from the University of Rhode Island. She has three chapbooks, Black Ballad (Bull City Press, 2022), Try Kissing God (Akashic, 2020), and  American Mercy (Finishing Line Press, 2019), and has published work in Prairie Schooner, Four Way Review, Maine Review, and other journals. More of her work is at afuansong.com.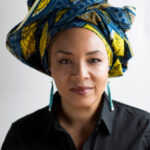 Interdisciplinary poet and sound artist LaTasha N. Nevada Diggs is the author of Village (Coffee House Press 2023) and TwERK (Belladonna, 2013). She is also the author of three chapbooks, which include Ichi- Ban and Ni-Ban (MOH Press), Manuel is destroying my bathroom (Belladonna*), and the album Televisíon.
Pop-up Poetry
October 14, 2023  |  12:00 p.m.
Watson Fine Arts – Beard and Weil Galleries
Lunch is included for attendees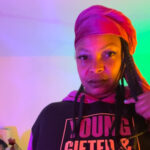 Denise Washington is so excited to be using the power of poetry to positively bring people together! She is the Founder, CEO and Curator of her #Pop-Up Poetry Series, A Denise Plays Hard Event Featuring Akili Jamal Haynes, Becoming Chibuzo, #Pop-Up Poetry's Multi-disciplinary Artist!
For 6 years, poetry has been popping up around, adding voices and more beauty to gardens, parks, playgrounds and beaches in the City of Boston & beyond, on-line, virtually, and globally, (sailing up the Hapi River in Kemet and in Kingston, Jamaica!) healing and empowering communities one poem at a time! Most recently, in front of more than 600 principals and new teachers, #Pop-Up Poetry, with Akili Jamal Haynes-Becoming Chibuzo was an example of Equitable Literacy in Practice at Boston Public Schools' Leadership Institute in August 2022 at Boston University. Also, in June 2022, she opened up for KRS-One at the Black Market, Buy Back Your Block in Nubian Square and her poem, " A Quilt of Greatness" which was made into a short film, a collaboration with Akili Jamal Haynes, #Pop-Up Poetry Series' Multi-Instrumentalist, was selected to have a screening in The 2022 Roxbury International Film Festival on June 25 2022 at Hibernian Hall.
Location, Origin and Diasporas Roundtable
October 14, 2023  |  1:00 p.m.
Watson Fine Arts – Ellison Lecture
A lot of writers and people in general have a complex relationship to "home" as a location of geographic/cultural origin. Poets on this roundtable have used poetry to further complicate the concept by home by exploring diasporic identities. Poets Anna Maria Hong and Basie Allen field questions from the audience about their work.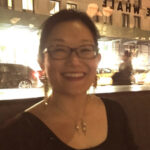 Anna Maria Hong is the author of the poetry collections Age of Glass, winner of the Poetry Society of America's Norma Farber First Book Award and the Cleveland State University Poetry Center's First Book Poetry Competition, and Fablesque, winner of Tupelo Press's Berkshire Prize, and the novella H & G, winner of the A Room of Her Own Foundation's Clarissa Dalloway Prize. Her writings appear recently in Guernica, Conduit, Notre Dame Review, FENCE, Poetry, The Hopkins Review, and The American Sonnet: An Anthology of Poems and Essays. A recipient of fellowships from the Radcliffe Institute for Advanced Study and the Marion and Jasper Whiting Foundation, she is an Associate Professor at Mount Holyoke College.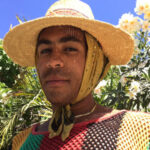 Basie Allen is a poet and visual artist from New York City. His work carves parentheses in-between dirt and feeling. In 2020 he was nominated for a Pushcart Prize. In 2022 he was nominated for the National Book Award. He is currently working on a new series of paintings for an upcoming exhibition.
America is More Than the English Language Rountable
October 14, 2023  |  2:15 p.m.
Watson Fine Arts – Ellison Lecture

America is a home to many, and, likewise, its languages are many. Poets on this roundtable consider the poetic effects of juxtaposing English to another language. Poets Gabriel Dozal and Abigail Chabitnoy field questions from the audience about their work.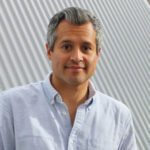 Gabriel Dozal is from El Paso, Texas. He received his MFA in poetry from the University of Arizona. His work appears in Poetry magazine, Guernica, Bomb Magazine, The Iowa Review, The Brooklyn Rail,and more. His first book of poetry The Border Simulator/El Simulador de Fronteras is available from One World/Random House.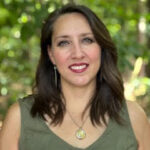 Abigail Chabitnoy is the author of In the Current Where Drowning Is Beautiful (Wesleyan 2022); How to Dress a Fish (Wesleyan 2019), shortlisted for the 2020 International Griffin Prize for Poetry and winner of the 2020 Colorado Book Award; and the linocut illustrated chapbook Converging Lines of Light (Flower Press 2021). Her poems have appeared in Poetry, Hayden's Ferry Review, Boston Review, Tin House, Gulf Coast, LitHub, and Red Ink, among others. She currently teaches at the Institute of American Indian Arts low-residency MFA program and is an assistant professor at UMass Amherst. Abigail is a member of the Tangirnaq Native Village in Kodiak. Find her at salmonfisherpoet.com.
Poets Q&A
October 14, 2023  |  3:30 p.m
Watson Fine Arts – Ellison Lecture
All participants in the festival will be available to field questions from the audience.
---
Sponsored by the Celeste Gottesman Bartos '35 Fund for the Visual Arts within the Evelyn Danzig Haas '39 Visiting Artists Program