In Conversation with "LOVING: A Photographic History of Men in Love, 1850s-1950s" authors Hugh Nini and Neal Treadwell
February 14, 2022 @ 6:30 PM

-

8:00 PM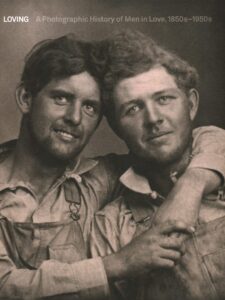 The Center for Social Justice and Community Impact, in partnership with Safe Zone at Wheaton, invites you to join Hugh Nini and Neal Treadwell, authors of the book "LOVING: A Photographic History of Men in Love, 1850s-1950s" in a discussion and Q&A-style program.
In-person seating is first come, first served. Registering for the in-person event enterers you into a raffle to win one of eight, signed copies of the book! 
You can also register for the live Zoom here! 
"In the late 1990's Neal & Hugh started collecting photographs purely by accident. The first photograph came from an antique store in Dallas. The photograph was of two men in a loving embrace mixed within random photos of a Dallas neighborhood from the 1920s. [Their] collection of over 2800 vintage photos of romantic couples spanning the 100 years between the 1850s and 1950s is the basis for [their] book.
LOVING: A Photographic History shines a new light on the most written about, dramatized, or filmed emotions – love. The pages of our book portray love, but also courage – the courage that it took to memorialize that unmistakable look that occurs between two people in love. LOVING: A Photographic History celebrates a loving past. A past that points towards the future. It's message is for everyone. It's universal."
Feel free to send questions, comments, or accessibility concerns to pratt_mike@wheatoncollege.edu.