Dr. Martin Luther King, Jr. Legacy Celebration
February 18, 2020 @ 7:00 PM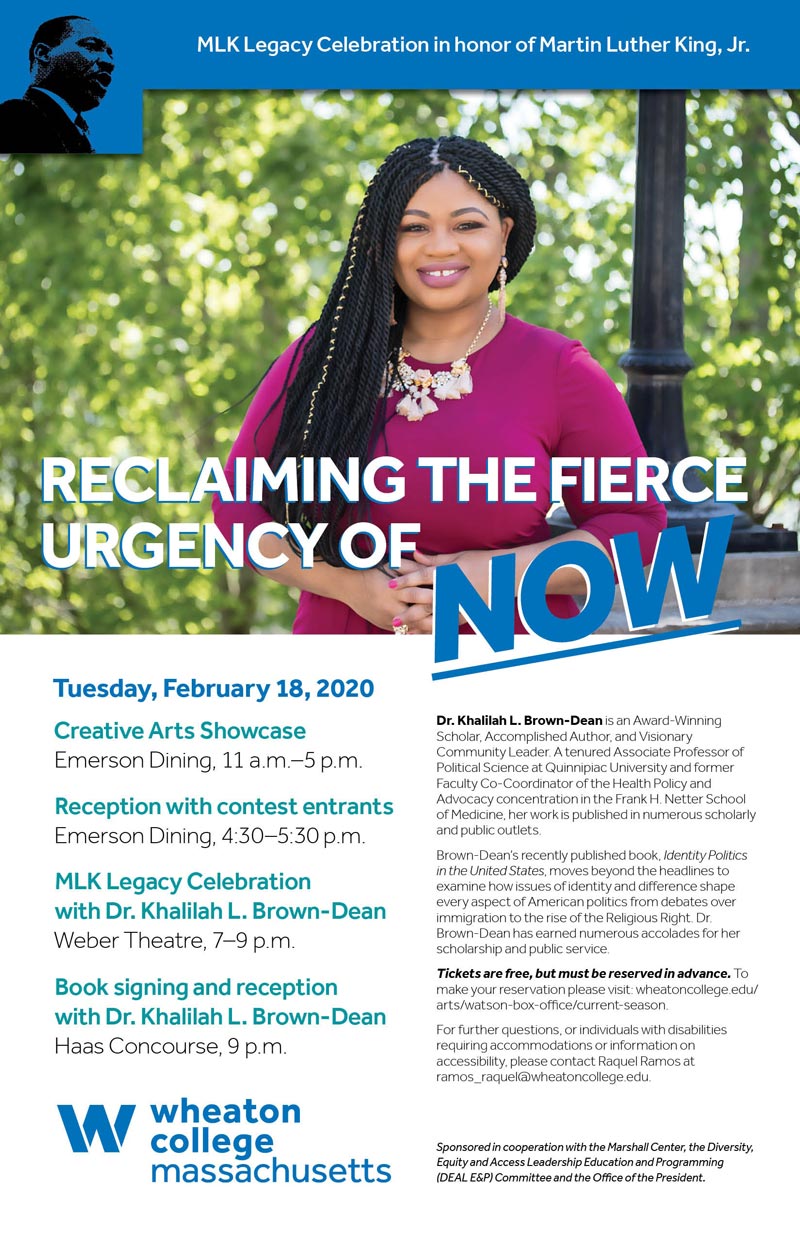 While tickets are free-of-charge, you must reserve them in advance. You can make your reservation by visiting the Box Office website.
Our annual award ceremony will occur on the evening of Tuesday, February 18, at 7 PM in Weber Theatre.
Our keynote speaker this year will be scholar, author, and civic influencer Dr. Khalilah L. Brown-Dean. With a keen eye toward the practical implications of democratic conflict, Dr. Brown-Dean is a preeminent expert on issues of criminal punishment, mass incarceration, voting rights, and U.S. elections. Read a short bio and summary of some of Dr. Brown-Dean's many accomplishments.
Another highlight of the Celebration is our Creativity Showcase, where we share and celebrate student creative work that offers tangible reflection on King's philosophies and principles of equity, justice and/or peace. There are prizes for the top submissions and a selected few will be shared with the community before the keynote address on February 18.
For more detailed information about the submission process, deadlines, and prizes for the Creativity Showcase, please visit:  Students invited to share creative work in MLK Legacy showcase
Schedule:
11 a.m.–5 p.m. Creative Arts Showcase, Emerson Dining
4:30–5:30 p.m. Reception with contest entrants, Emerson Dining
7–9 p.m. MLK Legacy Celebration with Dr. Khalilah L. Brown-Dean, Weber Theatre
9 p.m. Book signing and reception with Dr. Khalilah L. Brown-Dean, Haas Concourse