Wheaton's Designated Student Health Center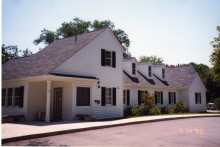 Care By Appointment Only
14 Taunton Avenue
Norton, MA  02766
Phone: 508-285-9500
Fax:  508-285-3388
Billing Inquiries: 508-285-6116
A unit of Sturdy Memorial Associates
Norton Medical Center's goal is to provide the highest quality healthcare by working together to meet your healthcare needs. In addition to Wheaton College students, NMC provides medical care to the surrounding community and local residents. Please feel free to contact Valerie Tobia, Director of Counseling and Health Services at health_services@wheatoncollege.edu for additional information.
Scheduling Appointments
The receptionists at NMC do their best to schedule appointments that are convenient for you during the three hours each day that are allotted for Wheaton students. If an appointment is not available with one of our doctors, you may be offered an appointment with one of our Nurse Practitioners. The nurse practitioners work very closely with our doctors to provide excellent care to patients. If, after your appointment with an NMC provider, you require further treatment, you will be referred to the many specialists in the area that are able to provide you with the specialized medical attention that you need. Most visits at NMC are 15 minutes long, which is typically long enough to address your primary concern. If you have several health issues, some may need to be addressed at another visit.
Canceling Appointments
If you are unable to keep your appointment, please notify us as soon as possible so that we may give that appointment to another student.
What to Bring to Your Appointment
You should arrive for your appointment ten minutes early in order to complete the registration process. Each time you have an appointment, we will ask for your insurance card as well as update your personal information.
Billing Information
Norton Medical Center does not bill students for office visits during the academic year and there is no co-pay charged regardless of whether you are enrolled in the college-sponsored health insurance plan or are enrolled in a personal health insurance plan. Your insurance company will be billed for office visits and you will be charged a co-pay from the close of the school year through mid-August. Year-round, your insurance will be billed for any lab work, such as a blood draw, urine culture, throat culture, or Pap smear. Your insurance will also be billed for any procedure you may undergo, such as a wart removal or ear irrigation. Additionally, certain immunizations may be billed to your insurance. It is very important that we have your complete insurance information on file as you will be responsible for any deductibles or co-pays. NMC is a unit of Sturdy Memorial Associates and any charges to your insurance will be billed using the Sturdy Memorial Associates' tax ID number.
On-Call Coverage
The NMC practice provides off-hours physician coverage through an answering service Monday through Thursday from 4:45 PM through 9:00 AM the following morning and 4:15 PM on Friday until 9:00 AM the following Monday morning. Our physicians are part of a larger group of Sturdy Memorial Hospital doctors who provide on-call coverage. If you need medical guidance or advice during non-office hours, please call 508-285-9500 and the answering service will page the covering physician who will return your call.
Talking With Your Doctor – Make the Most of Your Appointment