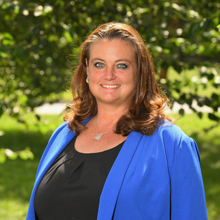 Kim Chermesino, BA (she/her/hers)
Office Manager of Counseling and Health Services
Kim is a graduate of Wheaton College and was excited to return to campus during the summer of 2021. As Office Manager, Kim is responsible for executing a large variety of administrative tasks needed to manage the Counseling Center, outreach and education initiatives, and Student Health Services. Prior to returning to Wheaton, Kim worked in various roles at an investment management firm in Boston, and more recently worked as office manager at a private counseling practice. When not on campus, Kim likes to go camping and exploring with her husband and two children, spoil their two dogs, and keep current with social pressures impacting today's youth.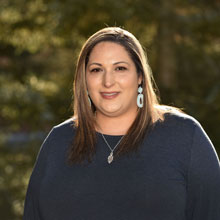 Jacqueline Menard, MSW, LCSW, LICSW (she/her/hers)
Assistant Director of Counseling
Jackie has been a staff clinician at Wheaton since April 2018. She graduated from Northeastern University and obtained her Master of Social Work from San Jose State University. Jackie has worked in a variety of social service inpatient/outpatient, residential, hospital and private practice settings and truly enjoys the work that she does.
Jackie is the daughter of first- and second-generation immigrants to the United States.  Her father and his family came to the US from Haiti in the mid-1950s and her mother's family narrowly escaped from a Nazi occupied Poland at the beginning of WWII.  Jackie was raised with the values of perseverance, dedication, hard work, compassion, awareness, and realism. She brings these same values into the Counseling Center and her work with clients.  With over 20 years of direct experience in the mental health field, Jackie also offers her personal and professional experiences, education, background and interests in her approach to working with students.  Jackie seek to create a safe environment where all identities are welcomed, validated, respected and affirmed. She looks forward to working with students and supporting them on their wellness journey.
When not on campus, Jackie enjoys traveling to visit family and friends in California, going to the beach, and going on adventures with her family.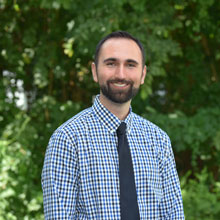 Alexander DeFelice, MS, LMHC (he/him/his)
Staff Clinician and Case Manager
Alex joined the Counseling Center team as a graduate-level trainee during the 2017-2018 academic year while he finished earning his master's degree from Northeastern University. Upon graduating, Alex accepted a full-time role within the Counseling Center as a Staff Clinician and Case Manager. Through this position, Alex has had the privilege of providing individual therapy to students while also helping students identify and connect with off-campus providers within their communities.
When it comes to his clinical work as a Licensed Mental Health Counselor, Alex believes every person is capable and deserving of positive change and personal growth. Thus, Alex strives to empower Wheaton students by creating a safe and supportive environment in which an individual's identities and lived experiences are respected, validated, and integrated into their therapy. Given Alex has extensive training in Cognitive Behavior Therapy, the interconnection among thoughts, emotions, and behaviors can be incorporated into his practices as well.
Outside of the Counseling Center, Alex serves as an active member within the Healthy Masculinity Working Group, the Cooperative for Anti-Racism Infusion Within Student Affairs, and the Fun Committee. In his free time, Alex enjoys staying active (through hiking and biking), cooking, and relaxing with a book or a video game.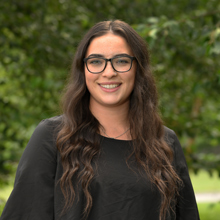 Carly Ladd, MA (she/her/hers)
Staff Clinician and Outreach Coordinator
Carly moved to Massachusetts from Maine in 2013 and went on to earn both her Bachelor's and Master's degrees in psychology at Bridgewater State University. Carly has professional experience in community based mental health working with underserved and marginalized populations, including LGBTQIA+ communities, youth experiencing homelessness, and gang-involved youth. Carly's therapy style is collaborative, practical, holistic, and LGBTQIA-affirming. Carly's clinical work centers around the social ecological model which understands that health and wellness are affected by the interactions between individual, relationship, community, and societal influences.
Outside of the Counseling Center, Carly enjoys cooking, practicing sustainability, (gardening, composting, refurbishing furniture), and spending time with her dog, Tito.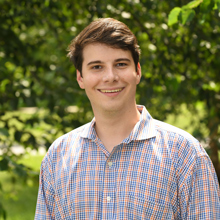 Matthew Ueleke, BA (he/him/his)
Masters Level Clinical Intern
Matthew is originally from Oxford, Mississippi and moved to Boston last August.  He graduated from the University of Mississippi in 2019 with a Bachelor's degree in Psychology and is currently in his second year of the Mental Health Counseling program at Boston College. Matthew has worked in the mental health field for quite a few years, including working in community-based case management alongside adults and children with serious mental illnesses.  In his free time, Matthew is an avid runner and love to watch sports.  He also enjoys spending time with his friends and family.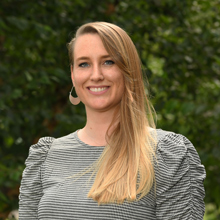 Molly Connelly, BA (she/her/hers)
Masters Level Clinical Intern
Molly is so excited to be back at Wheaton College! She graduated from Wheaton in 2013 with her BA in Psychology, and then worked in career counseling and higher education for a few years before deciding to pursue her Masters in Counseling Psychology at Northeastern University. When she is not in class or at the Wheaton Counseling Center, she is probably hanging out with her cats and her husband, painting, singing, or out walking.