Caleigh Grogan '18
Interfaith Engagement Coordinator (She/Her/Hers)
Caleigh Grogan is serving as the interfaith engagement coordinator at the Center for Social Justice and Community Impact. After graduating from Wheaton in 2018 with her Bachelors in Religion, she is excited to be able to do work she is passionate about. Caleigh is making plans to pursue a Master's in Divinity and someday become a minister and advocate for social change. At Wheaton she's passionate about advocating for students and bringing them together across religious divides to build community and make Wheaton (and the world beyond) a better place. Besides going to church, Caleigh enjoys poetry and scary books.
Email grogan_caleigh@wheatoncollege.edu | Phone: 508-286-3370
Mike Pratt
LGBTQ+ Engagement Coordinator (He/Him/His)
Pratt is thrilled to return to the Center for Social Justice and Community Impact as the LGBTQ+ Engagement Coordinator. As the Safe Zone Coordinator last year, Pratt worked with student, staff, and faculty members to expand queer-focused programming on campus. In his new role he hopes to further this work and make Wheaton College a place where intentional and empowering dialogue around LGBTQ+ themes can be a permanent reality. Pratt continues to oversee the creation, implementation, and expansion of the Safe Zone training program, and also advises three student groups via Pride Circle, and sits as a member of The Network for LGBTQ+ Inclusion, Support, and Advocacy. Pratt holds a Bachelor of Arts degree in Mediated Communications with a focus on Gender & Sexuality Studies and Theatre Arts from Stonehill College in North Easton, Massachusetts.
In his spare time, Pratt enjoys creative writing, watching films, acting, adventuring with his boyfriend, and listening to Stevie Nicks.
Email: pratt_mike@wheatoncollege.edu | Phone: 508-286-3370
Katherine Scalaro
Attleboro YMCA VISTA (She/Her/Hers)
Katherine serves as an AmeriCorps VISTA, in the Center for Social Justice and Community Impact, in connection with the Attleboro YMCA. Katherine will continue to strengthen the relationship between Wheaton and the Y by helping to maintain and expand the food security program at the YMCA that helps those in Bristol County made food insecure as a result of the COVID-19 pandemic. Katherine graduated from Eastern Connecticut State University in 2019 with a BA in New Media Studies, and she hopes to use it soon to go through with plans to pursue a Masters in Library Science. Katherine is excited to join the SJCI team, so she can help people really in need of it on a full-time basis. Katherine is an avid fan of old black & white movies and narrating books out loud to herself (and maybe her dog George or cat Gracie) when people aren't looking. 
Email: scalaro_katherine@wheatoncollege.edu | Phone: (860) 303-6832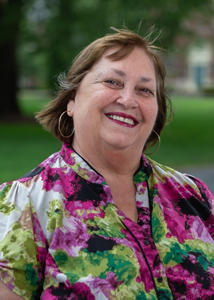 Winnie Collins
Administrative Associate (She/Her/Hers)
Winnie Collins works in the Centers for Social Justice & Community Impact and Religious & Spiritual Life. Winnie has worked at Wheaton for 34 years and is the 'go-to' gal for administrative help and projects.  She's in the office afternoons, Monday through Thursday. She's usually available unless she's at a zoo playing with the gorillas, her favorite primate.
Email collins_winnie@wheatoncollege.edu | Phone: 508-286-3370