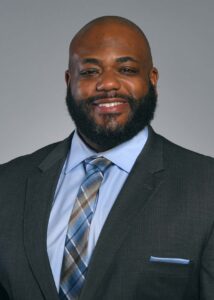 Leonard Breton
Director of Religious & Spiritual Life  (He/Him/His)

Email: breton_leonard@wheatoncollege.edu
Phone: 508-286-3373
Office location: Cole Memorial Chapel R015
Operating hours: Monday – Friday, 8:30 a.m. – 4:30 p.m.
Leonard (Lenny) Breton is the director for The Centers for Social Justice and Community Impact and Religious and Spiritual Life.  He joins the Wheaton community from his hometown of Queens, NY where he served St. John's University in a large variety of capacities.  Earning his bachelor's degree in literature and communications at Pace University, Lenny was intimately introduced to the professional side of higher education, serving as a residential life administrator while also working on his master's degree in education at Monmouth University.  Putting his degrees to work, Lenny spent the next 7 years teaching high school English and coaching football and basketball at the same level.  His passion for administration and desire to make greater change in the field of education led him back to the collegiate level.  His commitment to education and the empowerment of underrepresented and marginalized people guide him through his professional and academic work as he is currently pursuing his doctorate in education with an aim of being a prominent higher education administrator.
Personally, Lenny deeply enjoys quality family time, movies, powerlifting, college football, and spirited/engaging dialogue. He is a hip-hop music enthusiast and a long-time, and therefore long-suffering Knicks fan.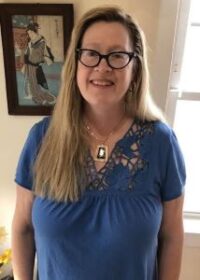 Laurie Cozad
Interfaith Engagement Coordinator (She/Her/Hers)
Email: cozad_laurie@wheatoncollege.edu
Phone: 508-286-3389
Office location: Cole Memorial Chapel R017
Operating hours: Monday – Friday, 8:30 a.m. – 4:30 p.m.
Laurie Cozad joins the staff of the Social Justice and Community Initiative Center and the Religious and Spiritual Life Center as the new Coordinator for Interfaith Engagement. Laurie received her Masters of Science in Foreign Service from Georgetown University and her Ph.D. from the University of Chicago specializing in the religious traditions of Hinduism and Buddhism. Her passion for Interfaith education and the ways that Interfaith dialogue can have a lasting affect on countries around the world, including the United States, has fueled her teaching, presenting, and writing. Every time a new cultural idea or experience resonates with a student it changes not only their perspective on the world but also their perception of themselves. She is a strong supporter of academic advocacy when it comes to questions of social justice and is committed to the potentially great changes that can come about through interreligious dialogue.
At home, Laurie loves both to play with her youngest son, Jesse, and to hang out with her oldest son, Winston. She also thoroughly enjoys her husband's cooking. She started her career
as a music major, loves rock and roll, and tends to dance whenever the spirit moves her—not particularly well, but with enthusiasm.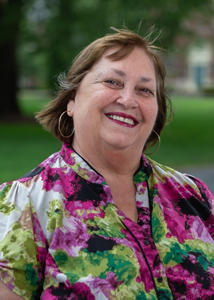 Winnie Collins
Administrative Associate (She/Her/Hers)
Email collins_winnie@wheatoncollege.edu
Phone: 508-286-3370
Office location: Cole Memorial Chapel
Operating hours: Monday 8:30 a.m. – 4:30 p.m.; Tuesday, Wednesday & Thursday, 11:30 a.m. – 4:30 p.m.
Winnie Collins works in the Centers for Social Justice & Community Impact and Religious & Spiritual Life. Winnie has worked at Wheaton for 36 years and is the 'go-to' gal for administrative help and projects.  She's in the office afternoons, Monday through Thursday. She's usually available unless she's at a zoo playing with the gorillas, her favorite primate.