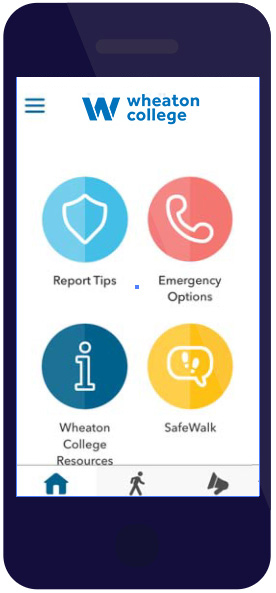 Safety, at your Fingertips
LiveSafe is a mobile app available to Wheaton students providing a direct line to campus Campus Safety, allowing students to quickly and anonymously report tips as well as seek help.
The free app can be installed on iPhone and Android mobile devices and is linked to Wheaton services and resources.
App features
Report Tips
Choose from 12 non-emergency tip types to make a report. This can be done anonymously.
Wheaton College Resources
Emergency info, campus resources, sexual assault assistance and local resources.
Emergency Options
Call 911 or call and text Campus Safety.
SafeWalk

Use SafeWalk to watch friends walk, or to have a friend watch you walk.
How to Sign Up for LiveSafe
Download from Google Play or the Apple App Store
Sign up with your name and info
Select Wheaton College as your School