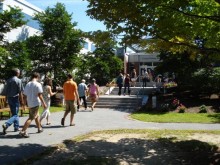 Parents/Guardians are a very important part of the CORE program.
A part of the program is designed especially for parents/guardians.  A specific track of sessions are designed to explain the academic and social experience at Wheaton, so that you can have a better idea of what to expect and who to call if you ever have questions.  You will also connect with other new parents/guardians over lunch while having a true Wheaton dining experience.
---
Parent/Guardian Schedule
Below are sessions that you will find in your CORE schedule.
Day 1 (Sunday, June 9, 2019 — Tuesday, June 11, 2019 — Thursday, June 13, 2019)
9 a.m. to 6 p.m.
Parents/Guardians will be completely engaged during day one of the program until 6 p.m. At that time, parents/guardians depart from campus and pick up their student the next day in the early afternoon. We hope that you will take advantage of getting to know the local area or check-out Boston or Providence for a night out.
Here are the parent sessions offered on Day 1:
9:15–10:05 a.m.
Check-in
Meadows Hall Residential Quad
9:30–10:15 a.m.
Continental Breakfast
Watson Fine Arts, Haas Concourse
10:30–11 a.m.
Welcome
Watson Fine Arts, Weber Theatre
11 a.m.–12 p.m.
Foundations to Majors to Capstones: Understanding the Wheaton Curriculum
Watson Fine Arts, Weber Theatre
12–1:15 p.m.
Lunch
Emerson Session 1
Chase Round Dining Hall Session 2 & 3
1:30–2:30 p.m.
Preparing Your Student (And You) for College Life
Science Center, Hindle Auditorium
2:30–2:45 p.m.
Refreshment Break
Science Center, Hindle Auditorium Lobby
2:45–3:45 p.m.
Academics and Beyond: Making the Most of the Wheaton Experience
Science Center, Hindle Auditorium
3:45–5 p.m.
Resource Fair
Emerson Hall
4–4:30 p.m.
Athletics at Wheaton
Balfour-Hood, Media Center
4:30 p.m.- 5 pm
Addressing your Health, Ability and Counseling Needs while at Wheaton
Mars Science 1141
5–6 p.m.
Parent Reception
Diana Davis Spencer Cafe
Day 2 (Monday, June 10, 2019 — Wednesday, June 12, 2019 — Friday, June 14, 2019)
9 a.m. to 12:30 p.m.
During day two of CORE students are busy meeting with the Advising staff and registering for courses.  The schedule for parents/guardians is much more relaxed with optional sessions offered throughout the morning.  There will also be an opportunity for to set up appointments with specific departments if you have individual questions.  We will also have a hospitality area set up for parents/guardians to gather, connect with staff and wait for their students to be finished with their advising and registration.
Here are the parent sessions offered on Day 2:
9 a.m.-2 p.m.
Information Center
Balfour-Hood Cafe
9:30–10:30 a.m.
Financial Services Overview
Ellison Lecture Hall, Watson Fine Arts
*Staff from Student Financial Services will be available in their offices for drop-in questions or individual matters from 9 a.m. to 4:30 pm
10–10:45 a.m.
Wheaton Ghost Tour
Meet outside the Wallace Library (Rain: canceled)
11 a.m.–11:45 a.m.
Tour of the Wheaton Greenhouse
Mars Center for Science and Technology, Greenhouse

12–12:25 p.m.
The Wheaton Edge: Internships, Funding and Summer Planning
Balfour-Hood, Club Hub
12:30-12:55 p.m.
Student Employment
Balfour-Hood, 1960 Room
---
Related Links