The CCTL offers two major programs that promote inclusive pedagogy and collaborative teaching and learning. The programs are offered by faculty experts collaborating with the CCTL director.
Interested in participating or collaborating on programming? Learning more? Contact cctl@wheatoncollege.edu
CoLAB Design
An intensive program in collaborative course design and program development. Faculty and staff participants explore together how research in the learning sciences can reshape existing courses or aid in the design of new projects and programs. The CoLab Design program is offered once a year.
Teaching and Learning Together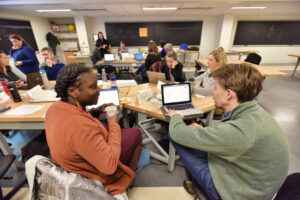 "As a new faculty member at Wheaton, I was also looking for an opportunity to collaborate with other staff and faculty around designing high-quality learning experiences in different content areas and to just have an opportunity to get to know more people on campus and to learn more about what is going on in different departments."
Sara Donaldson, Assistant Professor of Education
Pedagogical Partnerships
Student partners are empowered to work as consultants to faculty and instructors in making Wheaton classrooms and instructional spaces more inclusive. The students attend class meetings for the entire semester and provide written observations or, if requested, constructive feedback to their faculty partners. Generally, the partnership program is offered in the spring.
What Student Partners Say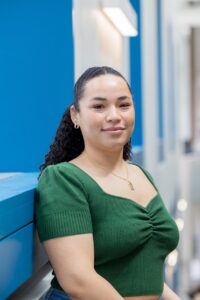 "I shared my perspective, ideas, and observations from the standpoint of a black student navigating her way through college and the outside world. Students want to be surrounded by peers and faculty that relate to them and where they come from. Acknowledging the various cultural backgrounds of the students in our classrooms is the first step to making the campus feel more welcoming to a wide range of the differences within our student body. I think Wheaton would benefit from having all faculty participate in a partnership like this where faculty and students can practice having awareness of one's cultural identities, views, and backgrounds both inside and outside of the classroom."
Jada Prinopoulos-Taylor '24, Neuroscience