Neuroscience
Neuroscience, the study of the nervous system, advances the understanding of the biological basis of thought, emotion, and behavior.
Neuroscience includes the study of brain development, sensation and perception, learning and memory, movement, sleep, stress, aging, neurological and psychiatric disorders, molecules, cells, and genes responsible for nervous system functioning.
Neuroscientists use a wide range of tools and approaches to examine molecules, nerve cells, neural networks, brain systems, and behavior. From these studies, they learn how the nervous system develops and functions normally and what goes wrong in neurological disorders.
Related Programs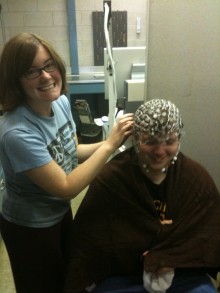 Neuroscience is an interdisciplinary field that combines biology, psychology and chemistry to investigate how the nervous system generates the complex experience and behavior of humans and other animals while being shaped in turn by the organism's engagement with the environment. Drawing most heavily on the offerings of its home departments of psychology and biology, but with additional courses in chemistry, mathematics, and computer science, the neuroscience major offers excellent preparation for post-graduate education and careers in the interdisciplinary field of neuroscience.
Major requirements
The major consists of at least 14 courses, 4 of which must be at the 300-level or above, including the Senior Seminar in Neuroscience.
Required Courses
PSY 202 Quantitative Research Methods
PSY 225 Brain, Mind and Behavior
PSY 227 Drugs and Behavior
BIO 111 Evolution and Ecology
BIO 112 Cells and Genes
CHEM 153 Chemical Principles
CHEM 253 Organic Chemistry I
MATH 141 Introductory Statistics
or MATH 151 Introduction to Data Science
or PSY 141 Statistics for Social Sciences
or SOC 141 Statistics for Social Sciences

NEUR 400 Senior Seminar in Neuroscience

Electives
Five elective courses and three must be taken at the 300-level.
Two of the following courses in Psychology:
PSY 211 Learning and Memory
PSY 222 Cognition
PSY 226 Comparative Animal Behavior
PSY 230 Psychology of Consciousness
PSY 312 Perception
PSY 361 Behavioral Neuroendocrinology
PSY 367 Cognitive Neuroscience
Two of the following courses in Biology:
BIO 211 Genetics
BIO 219 Cell Biology
BIO 244 Introductory Physiology
BIO 254 Developmental Biology
BIO 255 Vertebrate Evolution and Anatomy
BIO 303 Evolution
BIO 305 Biochemistry
BIO 316 Molecular Biology and Genomics
BIO 324 Neurobiology
One of the following 300-level lab courses:
PSY 337 Practicum in Psychological Research
PSY 341 Laboratory in Behavioral Neuroscience
PSY 343 Laboratory in Cognitive Psychology
PSY 348 Laboratory in Animal Communication and Cognition