Cultural Ambassador in Spain: North American Language and Culture Assistants

This program aims to:
Promote cultural, educative and scientific knowledge exchange.
Support Spanish teachers in teaching and students in learning the Spanish language.
Foster understanding and appreciation between different cultures.
The Assistants get a grant in Spain to provide support to the English or French teachers in language and culture classes and also  have the opportunity to learn about the Spanish language and culture and use their experience upon their return to the United States or Canada, thus developing cultural understanding between the citizens of Spain and the United States of America and Canada.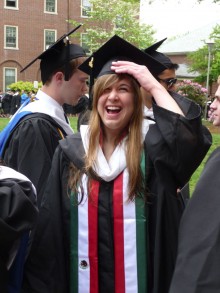 SARAH BERTRAND is a cultural ambassador in Mallorca, Spain
This school year, I am working as a Language and Cultural Assistant, in
 Mallorca, the largest of the Balearic Islands of Spain. I first heard about 
the program after a representative from the Spanish Ministry of Education
 spoke to Spanish classes at Wheaton. When I found out that I had been
 placed in the Balearic Islands, I did not know what to expect. Now that I 
am here, I realize that I could not have anticipated anything with much 
accuracy. I am learning to accept and even expect the unexpected.
Although I am living in the city of Palma, I am working in two schools 
located in the southeast part of the island. In this sense, I have had the
 opportunity to get a glimpse of both city and village life. Since I first 
arrived, I have been overwhelmed by the generosity and hospitality of
school staff. Likewise, I have become smitten with the students with whom I
 work. I assist with English lessons and in classes such as art and music 
that are taught in English as part of the Balearic Islands' trilingual
 educational approach (including Spanish, Catalán, and English). I have also 
had the opportunity to share information and culture relevant to the United
States, which forces me to reflect on my own cultural background and on the
country I come from. By working alongside teachers and students, I feel I
have learned more about education, teaching, and learning. This experience
is strengthening my interest in the field of education and further defining 
my educational philosophy.