Research
Senior thesis
In her senior honors thesis, Jackie Presutti examined two iconic war photographs, Robert Capa's "Falling Soldier" from the Spanish Civil War, and Eddie Adams's Pulitzer Prize-winning "Saigon Execution" (aka "General Loan Executing a Vietcong Suspect") from the Vietnam War.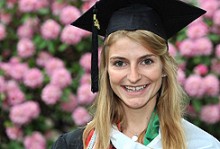 My honors thesis was the hardest thing I've ever worked on, but by far the most rewarding. I was first exposed to Capa's "Falling Soldier" during Professor Fran de Alba's course, "The Spanish Civil War: Memory, Text and Image." The photo captures the instant of death of a Republican soldier, and it became the most popular and iconic image of the war. I became most interested in the fact that technology permitted the capture of a moment that we can, in no other
circumstance, stop and react to. In "Saigon Execution," Adams again captures the instantaneous moment of death, and shows it to us not as a consequence but as a current action. Despite the ideological drive behind these two graphic and violent images, we, as humans, all react to them in the same way: we are forced to confront death itself and the finitude that makes us all human.
Digging deep:
I spent over a year researching at Wheaton, the University of California at Berkeley, la Reina Sofia in Madrid, and the International Center for Photography in New York. My thesis was written entirely in Spanish and was defended in Spanish as well. It was an interdisciplinary study and a great culmination of all of my work at Wheaton.