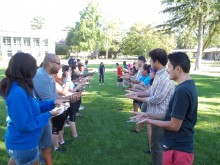 The Marshall Center for Intercultural Learning offers a variety of programs and services to the entire college community. The Intercultural Early Arrival Program and new student Orientation traditionally kick off the academic year, which is filled with academic, social and cultural events that support Wheaton College's academic mission.
The work of the Marshall Center is best understood through a three-part model of "ABCs."* We strive to:
Affirm identity
Each and every member of the community should see his or her experience reflected in the curriculum, in co-curricular programs and in social events. The center supports students, faculty and staff who wish to develop events and programs to recognize, explore and educate about many aspects of identity, including ethnic, racial, gender, sexual identity or orientation, or religious facets of identity.
Build community
In addition to recognizing his or her identity at Wheaton, each person should have the opportunity to learn about and share in the identities of others. Community-building programs include small group workshops and dialogues that create safe spaces for asking questions and expressing curiosity about experiences different from one's own.
Cultivate leaders
The center aims to work individually and collectively with students toward achieving curricular as well as co-curricular success. Cultivating academic excellence through mentoring, cohort groups and individual academic advising allows our students to set meaningful, attainable goals. Students learn about the diverse array of academic opportunities available, including travel and research fellowships, graduate school opportunities, and post graduate fellowships and scholarships.
All programs of the Marshall Center for Intercultural Learning are an extension of the college's commitment to diversity as an educational asset.
*Tatum, B. D. (2000). The ABC approach to creating climates of engagement on diverse campuses. Liberal Education, 86 (4), 22-29.