The Career Services team can help you design your path to professional success. Our team is made up of three professionals who have years of experience helping students to achieve their professional goals.
Meet the Team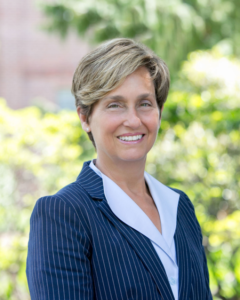 Lisa Gavigan, '83, P'18, Director
gavigan_lisa@wheatoncollege.edu
Pronouns: she, her, hers
I am responsible for the annual strategic direction of Career Services, including student engagement, partnerships with faculty and the curriculum, the direction of employer and corporate relations, and professional development programs. I serve on the Pre-health Advisory and the Scholar Development committees. I enjoy advising students and alumni on all matters related to career exploration and professional development.
I received my B.A. in Asian Studies from Wheaton College and an A.M. in Regional Studies, East Asia from Harvard University's Graduate School of Arts and Sciences.  When I am not working, I like to garden, read historical fiction, and test recipes.
Victoria Pierre, Career Advisor
pierre_victoria@wheatoncollege.edu
I am responsible for the management of employers, job postings, and Wheaton's Fall and Spring Career Fair, in addition to general advising. I find the most joy when I meet with students and help them find not only a career path but their passion.
I recently graduated from Boston College with my Master's in Higher Education. Additionally, I received a Bachelor of Arts at Stonehill College in Mediated Communications. I spend my time cooking, reading, with family, and singing!

Audrey Spina "17, Career Advisor
spina_audrey@wheatoncollege.edu
Pronouns: she, her, hers
I am responsible for managing the Career Peer Advisors (CPAs) in the Career Design Studio and engaging Wheaton clubs/organizations on campus, in addition to general advising. I enjoy advising students on all matters related to career exploration and professional development, but I have a special interest in arts/humanities career-related advising and development. Before joining the Career Services team, I worked in the nonprofit/museum field and currently serve on the Development and Events Committee at the New Bedford Art Museum/ArtWorks! in New Bedford, MA.
I earned my undergraduate degree from Wheaton (class of 2017), with a double major in Art History and English and earned my master's degree in English, with a concentration in contemporary poetry and a secondary education initial teaching license, from Bridgewater State University. When I am not working, I enjoy reading, baking, hiking, writing, and identifying mushrooms.

Matt Wheeler, Assistant Director
wheeler_matthew@wheatoncollege.edu
Pronouns: he, him, his
I work with first-year, sophomore, and junior students to support them in their career development and internship searches. I also manage several funding programs including the Wheaton Edge, Davis International, and Porter Cleveland Fellowships, and the Winternship Grant. On campus, I'm a member of the Staff/Faculty Network for LGBTQ+ Inclusion, Support, and Advocacy.
I hold a B.A. in Women's Studies and Sociology from Vassar College in Poughkeepsie, NY, and have completed coursework in Higher Education Administration at UMass Amherst. In my free time, I like to cook, crochet, play trivia, perform karaoke, and browse pet adoption websites as I dream of a home filled with cats.
Hours
Hours: Monday–Friday, 8:30 a.m.–4:30 p.m.
Location: Kollett Hall
careerservices@wheatoncollege.edu
Meet with a Career Peer Advisor in the Career Design Studio
(Kollett Hall) 
Our team of Career Peer Advisors are available to assist with a variety of career-related topics, such as resumes, cover letters, utilizing Handshake and LinkedIn, and more! Drop in to meet with a trained CPA to help with career basics in the new Filene Center.
Spring 2022 Drop-in Hours:
Tuesdays: 10–11 a.m.; 1:30–3:30 p.m.; 7–9 p.m.
Wednesdays: 10 a.m.–3 p.m. and 7–9 p.m.
Thursdays: 10–11 a.m. and 1–3:30 p.m.
Fridays: 10 a.m.–12:30 p.m. and 2–3 p.m.
Our Vision:
To inspire and empower students in identifying and developing career opportunities through the strategic exploration of their personal, academic and professional interests.
Our Mission:
Career Services is committed to providing expert career guidance to students through a customized career development process. Our approach includes interactive and educational programming and resources that enable students to understand and articulate the real world application of intellectual and practical skills gained in and out of the classroom. We work to cultivate an expansive career community that engages students, faculty, staff, parents, alumni, and employers to support each student's lifelong career journey.