APPLICATION DEADLINE IS 12:30 PM, FRIDAY, APRIL 13, 2018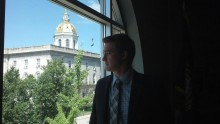 The Wheaton Fellows Program is designed to help first-years, sophomores and juniors undertake educationally meaningful domestic or international experiences that link to academic or career interests.  Students are invited to submit proposals to fund unpaid domestic or international non-credit bearing internships, service/volunteer experiences or structured independent research based on their interests and background.  Students can design and initiate their own assignments and contacts, either independently or through established organizations.  Students also may seek suggestions and guidance from faculty and staff.
Recipients receive a $3,000 stipend to support experiences of 6-8 weeks (minimum of 240 hours) during the summer break. Many of the fellow stipends are named for benefactors whose gifts to Wheaton have made the awards possible, including Blakely Bundy, Dan Golden, Patricia Dunn Grey, Keefe Family, Porter, Shouse, Talanian, Katherine Conroy Whalen, and Wright Shippee.
Fellows may not use their stipend to volunteer or intern in countries that are on the U.S. Government Warning List.  Students seeking an exception to this policy must submit a Travel Warning Petition to the Office of Career Services by April 10th.  Petitions are reviewed and considered by the College's Safety Policy Committee and decisions made by the committee are final.
Independent research involving human subjects must have the approval of the College's Institutional Review Board (IRB).  Also, students whose experiences are abroad are required to carry international health insurance.  The Filene Center processes this coverage for students (approximately $60/month) and bills students' accounts. 
A selection committee comprised of faculty members and Filene Center advisors reviews all applications and chooses recipients based upon the criteria listed in the on-line application.  Decisions reached by the selection committee are final and non-selected applications will NOT be reconsidered.  Students may apply to multiple Wheaton summer funding opportunities, but will only be awarded one in a given summer. Finally, students must be in good academic (not currently on academic suspension) and social standing (having no student conduct violations that have resulted in either probation or suspension) in order to receive a fellowship from Wheaton.