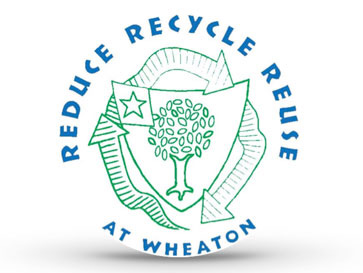 As of the spring semester 2015 Wheaton College is using Republic services to implement single stream recycling. This means all recyclable materials can now be put into the same bin!
Here is a list of all items permitted for recycling on campus:
Paper
All office paper, any color, any ink
Paper envelopes
Post-it notes
Papers
Time cards
Index cards
Computer print outs
Color office paper
Laser printed paper
Letterhead stationary
Loose-leaf pages
Receipts
Scratch pads
Copy and typing paper
NCR (no carbon required)
Envelopes with window
Legal pads
Brown paper bags
Magazines
Newspaper
Cereal boxes (no plastic bag inside)
Phone books
DO NOT recycle:
Carbon paper, Waxed paper, Food wrappings, Tyvek envelopes, Chipboards Transparencies
Glass
DO NOT recycle light bulbs, plate glass, tempered glass mirrors, ceramics, Pyrex or any glas that is not a container. Please DO NOT recycle broken glass.
Plastic
Water Bottles
Soda Bottles
Juice Bottles
Soap Bottles
Milk Jugs
Detergent Jugs
Peanut Butter Jars
Mayonnaise Jars
DO NOT recycle plastic wrap, plastic bags or containers not marked with a number from 1 to 7, such as motor oils, antifreeze or hazardous materials. NO PVC, foam cups or foam packing.
Important Recycling Facts
Remember to empty out all containers
Do NOT recycle soda cans or bottles that are full
Remove all screw tops off bottles
DO NOT put ANY food items into the recycling bins
Any soiled paper or plastic CANNOT be recycled
The cleaner the better! If you can clean out and rinse your containers it is easier to recycle.