Filled with grief over the loss of his daughter, Elizabeth Wheaton Strong, Judge Wheaton decided to erect a stone memorial to commemorate his daughter's life. However, an idea was introduced to Judge Wheaton by his daughter-in-law, Eliza Baylies Wheaton. Percolating in her mind for some time had been a desire to counter the lack of higher education opportunities for young ladies that equivalent to for young ladies.. Mrs. Wheaton suggested to her father-in-law that the stone memorial he originally intended be replaced by a living memorial to Elizabeth, in the form of a seminary for girls.
Judge Wheaton was not only receptive to the suggestion, he acted upon it quickly. Using the property that would have been Elizabeth Wheaton Strong's, Judge Wheaton created a trust for Wheaton Female Seminary. He then put aside land directly across from his own home in Norton for the school. Construction began on the site soon after.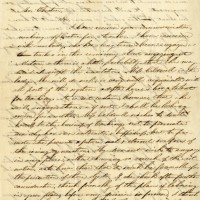 "From the second page of the letter (shown above): "I rejoice that your father has decided to go forward in this benevolent undertaking. May he live to see great & good results, & have abundant cause to thank God, that this was put into his heart. And may you, Sir, live to see greater things than his eyes shall behold, & may you ever bless our Heavenly Father, who has given to your dear & honored father, a heart to care for those beyond his own household. Such a spirit in a father, is a rich legacy to children, which cannot be estimated by riches & gold.
Any service which I can consistently render you in behalf of this benevolent undertaking, I shall render most cheerfully.
Respectfully yours,
Mary Lyon"
A few months later, the family contacted Mary Lyon, a respected Massachusetts educator. The Wheatons recognized that the seminary would need a strong principal to inaugurate it on a solid foundation. While Miss Lyon declined the position, she did assist in the development of the curriculum, formulate the rules of the Seminary, and contributed to the hiring of the principal and teachers.
When the school opened for its first term in April 1835, the boarding house had not yet been built. Judge Wheaton and Mrs. Wheaton moved out of their home so that it could be used to board the students. Laban Morey Wheaton and Eliza Baylies Wheaton also boarded some students, as well as the first principal, Miss Eunice Caldwell. The remaining students were boarded with other townspeople.
Regarding the curriculum for the Seminary, Judge Wheaton expressed his intent that the first concern be for "her Christian culture and development." This is not surprising, considering his pivotal religious experiences in his retirement. Fortunately, the Wheatons had engaged Mary Lyon as a consultant. She shared the Judge's perspective that religion was at the foundation of all learning. The curriculum that was drafted for Wheaton Female Seminary supported Judge Wheaton's vision of an institute that focused on the "promotion of piety, religion, and the education of females in all branches of science and literature that are suitable and proper for them to attend to."
The desire and commitment to establish an institution for women's education in the 1830s was an astonishing feat in and of itself. Due in large part to their personal fortune and civic leadership, the Wheatons accomplished their goal in one year.