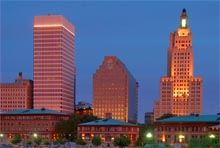 Providence, Rhode Island is New England's second largest city and has a flourishing cultural and academic community.
The Tony Award-winning Trinity Repertory Company and the Providence Performing Arts Center are historic landmarks. Students and alumni of Brown University, Providence College and Rhode Island College bring vitality to the city's intellectual life.  The famous Rhode Island School of Design adds a cool artistic flavor to the city and brings many young artists to the area to study and begin their careers.
Named one of the "Top Ten Up-and-Coming Travel Destinations" by the Wall Street Journal, Providence seamlessly blends the urban sophistication of a big city with the graceful charm of a small town. The Wheaton community takes advantage of Providence's classic architecture, arts community, vibrant and diverse neighborhoods and a renowned restaurant scene. The city's compact size and convenient location make it easy to get to and hard to forget.
Ethnic diversity is provided by Little Italy on Federal Hill, west of the river, and by active Greek and Portuguese – and especially Cape Verdean – communities.