Wheaton is in the center of it all—south of Boston, north of Providence and just a train ride to New York City. Wheaton is easy to get to. And we have parking! Our location gives students the opportunity to explore art, research and internships at some of the most prestigious organizations in the world. Boston and Providence offer plenty of venues for socializing too.
The campus community takes advantage of Wheaton's Boston/Providence Connection, a service designed to provide students with more chances to explore cultural, athletic and dining opportunities in Boston and Providence.
Other favorites? Wheaton is within an hour's drive of the beautiful beaches of Cape Cod, Massachusetts, and Newport, Rhode Island.
The rural Norton community creates a safe and healthy living environment. And not to be outdone, the community hosts many superstars throughout the year, including Tiger Woods at the Tournament Players Club Boston and some of the best popular entertainment is right down the street at an outdoor concert venue. The five-time World Champion New England Patriots play nearby. Local restaurants add to the diverse flavor of the region and there are many local attractions within 30 minutes of the campus worthy of the drive.
Like other towns in the northeastern United States, Norton has four distinct seasons. If you've never seen the campus after a soft snow, you're missing out. We are New England, in all its beauty and diversity.
Explore Campus
Take a virtual tour with our interactive campus map!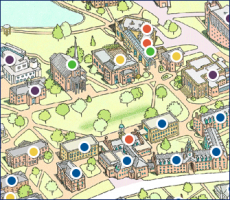 View a PDF of Wheaton Campus Map