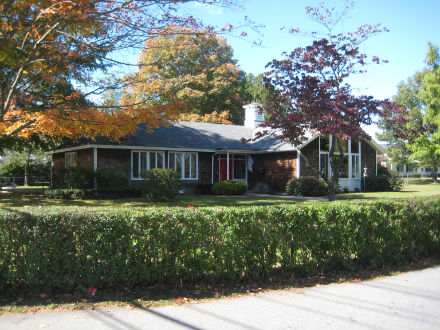 The Elisabeth Amen Nursery School, affiliated with Wheaton College's Psychology Department, has been a site for child study and research since 1931.  Enroll your child at the Amen Laboratory School today by calling 508-285-8220 or emailing Marge Werner. 
The school's philosophy is based on the belief that young children learn best when they are allowed to play, investigate and use language to describe their experiences. While the first mission of the nursery school is to provide young children for psychology students to observe, the second and most important mission is to provide young children an environment which allows children experiment and explore while cultivating their love of learning. The children in the laboratory school benefit from the expert guidance of certified teachers and college professors who are actively working in the field of child development and early childhood education.
The nursery school provides four programming options.
2-Day AM Class for children ages 3.0 – 3.6 from 8:30 – 11:00 a.m.
3-Day AM Class for children ages 3.6 – 4.3 from 8:30 – 11:30 a.m.
4-Day PM Class for children ages 4.3 and older from 12:30 – 3:30 p.m.
5-Day Full Day Class for children ages 4.0 and older from 9:00 a.m. – 3:00 p.m. (flexible drop off from 8:30 a.m. – 9:00 a.m.)
Classes are balanced between males and females. Age grouping and the balance between male and female children provide more opportunities for college students to observe gender and developmental issues in young children.
The nursery school is located on the campus at Wheaton College and is open to the public. Inquiries for enrollment are taken throughout the year.  During January and February, parents on the inquiry list are invited to attend an orientation during which the philosophy of the nursery school and the procedure for enrollment are provided. Parents unable to attend an Open House session are encouraged to phone or email to schedule a school visit.
The nursery school follows the Norton Public School calendar as closely as possible.  Our teaching staff includes two full time teachers and college students who are work study students.
Convenient online payment is available through FACTS TUITION MANAGEMENT.
For more information, contact Christine LaFrancois at 508-285-8220 or via email
Find us on Facebook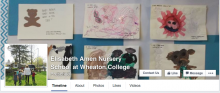 Contact Information
Elisabeth Amen Nursery School
Wheaton College
26 East Main Street
Norton, MA  02766-2322
508-285-8220