The Wheaton College Early Education Center, formerly the Elisabeth Amen Nursery School, offers a unique play-based preschool program on a vibrant campus setting. With a focus on hands-on learning and outdoor exploration, children discover and grow with curiosity and confidence. Located on the picturesque grounds of Wheaton College, the center boasts amenities including apple orchards, nature trails, a fishing pond, performance spaces and a gymnasium. Led by Massachusetts Department of Early Education and Care-certified teachers, in conjunction with the college's education and psychology departments, the center is open to preschool-aged children living in Norton and surrounding communities.
Program options
We offer four programs, including half-day, full-day and extended day options. The school year runs from September through June and follows the Norton Public School calendar as closely as possible.
What makes us unique?
The Wheaton College Early Education Center, formerly the Elisabeth Amen Nursery School, is affiliated with Wheaton College's Psychology and Education departments. It has been a site for child study and research since 1931. With this connection, children benefit from expert guidance by teachers and college professors actively working in the fields of child development and early childhood education. The center also employs students interested in the study of child development. The low adult-to-child ratio (1:5 or 1:6) allows lead teachers to nurture the individual interests of each child.
Celebrating over 90 years, the center has been at the forefront of best practices and emerging trends in early childhood education. We believe that children learn best through exploration and hands-on learning through play. Our renovated classrooms and campus amenities provoke critical thinking and problem-solving in a safe, nurturing environment. We encourage each child's natural desire to learn through rich language and literature experiences and exploration of their interests. Early learning concepts are enhanced through a carefully designed play-based curriculum that encourages cognitive, social and emotional growth within each child.
About our staff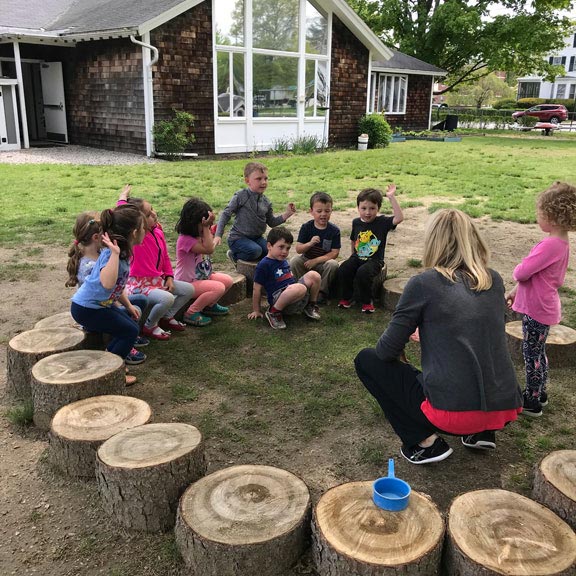 Our half-day and full-day programs feature very low teacher-child ratios (1:5 or 1:6).

All of our staff members hold master's or bachelor's degrees.

We also employ college students who are interested in pursuing careers in education or other related fields to assist in the classroom each semester.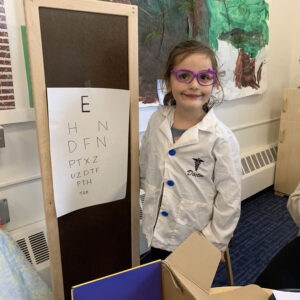 Strong foundational skills
"We cannot say enough about our children's experiences at the Elisabeth Amen Nursery School. The variety of activities they have participated in has provided them with strong foundational skills. Being on a college campus has afforded them with so many unique opportunities that they would not have received anywhere else. We could not have asked for a more nurturing or educational experience for this time in our children's lives."
— Amy and Kevin Schleicher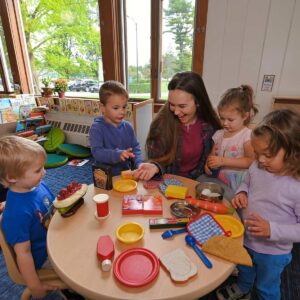 Warm, welcoming and nurturing
"The Elisabeth Amen Nursery School is a warm, welcoming and nurturing preschool with a dedicated, talented and highly educated staff that immediately draws you in and treats you like family. It's a place that encourages individuality, uniqueness and friendship while also embracing challenges head-on and in a customized way. But it's so much more. It's more than a school, it's a preschool that prepares its students—and their parents—for life beyond its four walls, through educational tools, emotional support and a positive approach to education driven by its students."
— Amanda Griffith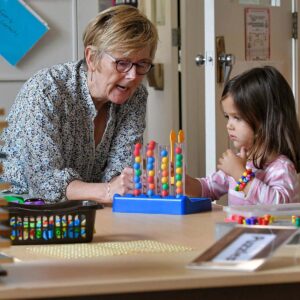 A true appreciation for children
"The staff members have a true appreciation for children. It is evident that they genuinely love what they do, and they have a unique talent for making each child feel special. Kindness, curiosity, problem-solving, and fun are all embedded into the daily routine. My son had an amazing two years and made so much growth socially. He loved going to school simply because it was a comfortable, predictable and safe environment where he could be himself and grow and learn at his own pace. Sending him to this school is by far one of the best decisions I've ever made."
— Pam Jenson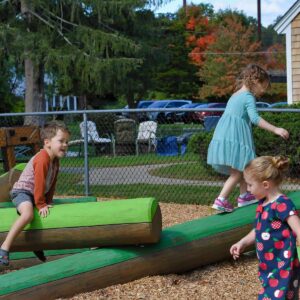 Play, exploration and socialization
"My daughter's two years at the Elisabeth Amen Nursery School have been absolutely incredible and pivotal in her child development. There was no other choice in preschool for us, as parents and educators, because their core values line up with ours—preschool is a time for play, exploration and socialization. Our daughter was a quiet girl when she started, and to see her interacting with peers and adults in such an outgoing and comfortable way is really heartwarming for us."
— Sarah and Eric
Contact us
If you would like to enroll your child in the Wheaton College Early Education Center, or schedule a tour to learn more about our programs, please contact us!