You help to make our association of over 17,000 Wheaton alumnae and alumni strong.  You continue to count on each other and contribute to the college community.
You provide internships and career information to students and one another. You help each other stay in touch with classmates–and introduce each other to new friends in new cities. You provide a critical link between prospective students and today's Wheaton. Last but not least, your financial support ensures that future generations of young women and men have the same wonderful Wheaton education that you had.
The Alumni Association is governed by a board of directors, elected by you and representing the interests and needs of our members. Wheaton and the association depend on more than 1,100 volunteers to provide all of the outreach and opportunities described above. Read on to learn more about how you can support Wheaton and your alumnae/i association–and what we can offer you!
New board chair and Alumni Association president elected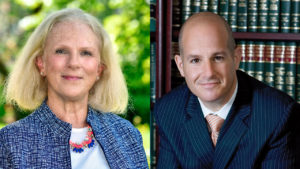 Two longtime Wheaton alumni volunteers have been elected to take key leadership positions at the college, heading the Board of Trustees, and the Alumni Board of Directors and Alumni Association.
The trustees have elected Janet Lindholm Lebovitz '72 to serve as the board's next chair, replacing Nancy Pearlstine Conger '67, whose term ends on June 30, 2018. Lebovitz currently serves as a vice chair of the board.
And the Alumni Board of Directors have voted to name Joshua S. Bauchner '95 president of the Alumni Association this fall when current president Jane Martin '74 ends her term as head of the association.
"Wheaton is extremely fortunate to have talented and dedicated alumni like Janet and Josh who are ready to help guide the college toward achieving its goals as a top liberal arts college," said President Dennis M. Hanno. "I'm looking forward to working with both of them and their colleagues to continue Wheaton's amazing momentum."
New board chair
Lebovitz joined the Wheaton Board of Trustees in 2010, having served the college since her graduation in myriad volunteer posts, from class officer and reunion gift chair to membership on the alumni board and the President's Commission. On the board, she has been involved in a number of critical trustee committees, including serving as chair of the Reach and Reputation Committee, and most recently as a member of the Executive Committee. She is also a long-standing member of both the Investment and Philanthropy committees.
"It is both an honor and a privilege to be chosen by my fellow trustees to lead the Wheaton board," Lebovitz said. "This responsibility comes at a time when all educational institutions are challenged by the future, so I feel particularly fortunate to have the support of a collaborative board with a great depth of expertise and experience, and to work with the leaders of the college, each of whom brings extraordinary proficiency to their work. I look forward to our partnership on behalf of Wheaton."
A math and economics major at Wheaton, Lebovitz earned an M.B.A. from the Tuck School of Business at Dartmouth College. She held positions with several businesses before joining Citicorp, where she rose to the position of vice president of new product development in the consumer banking division. After leaving Citicorp, Lebovitz became more deeply involved as a volunteer leader in community education and human service organizations, including Fairfield County's Community Foundation/Fund for Women and Girls and the Visiting Nurse & Hospice Agency of Fairfield County (Conn.).
"Janet's leadership as vice chair of the board has been outstanding," said Conger, the board's current chair. "She led a process that has strengthened the board's focus on strategic issues and on our collaboration with the college's senior administrators. I'm very pleased that she has agreed to lead the board and Wheaton into the future."
Thirty-two alumni, parents and friends of Wheaton serve on the Board of Trustees, which is responsible for setting the financial and strategic direction of the college in collaboration with the administration. In addition, the board also exercises oversight of the president and senior administrators of the college. Members serve five-year terms.
Alumni board transition
Wheaton's Alumni Board of Directors will undergo a leadership transition as well, with the naming of Bauchner to serve as president of the Alumni Association and head of the alumni board.
"Josh has a long history of dedicated service to Wheaton and to the alumni community," said outgoing Alumni Association President Jane Martin. "He understands deeply what makes our college special and what our alumni value most about their association with Wheaton and with each other. I'm excited to see the association's work continue with Josh and the rest of our outstanding alumni board, and I hope to be able to contribute to it."
A political science major at Wheaton, Bauchner earned a law degree from Brooklyn Law School following graduation and has practiced with several firms as well as served as Deputy Director of the legal division of the New York City Department of Consumer Affairs. He is now a partner and co-chair of the litigation department at Ansell Grimm & Aaron, P.C., where he practices as a commercial litigator and cannabis attorney.
Beyond his professional experience, Bauchner brings a wealth of knowledge of Wheaton, having served in numerous volunteer positions since his graduation. He has been active in the New York City Alumni Club, and he has served the association as a class officer, vice president of the Alumni Board of Directors, and as an alumni trustee from 2008 through 2012.
"I'm looking forward to this new opportunity to contribute to Wheaton," Bauchner said. "The Alumni Association represents the college's largest constituency—18,000 strong—and the Alumni Board of Directors represents that constituency with the greatest outreach, the greatest depth, and the greatest diversity. There is a significant amount of talent and opportunity among our alumni, and I anticipate engaging as many Wheaton alums as possible to advance the association's and college's collective interests."
In addition to Bauchner, the Alumni Board of Directors elected Eric Tomasini '97 as an alumni trustee and the following individuals as members at large: Grace Kelly '16, Marci Miller '77, Amanda DeGroff Munger '12, Ryan Sermon '11 and Pat Sweeting '77.
The Alumni Board of Directors is a 20-member representative body charged with  fostering meaningful connections and engagement between and among alumni, future alumni and the college. In addition to the president, five members of the alumni board also hold appointments to the Board of Trustees. The two boards work in concert to advance the goals of the institution.
To contact the office, please email alum@wheatoncollege.edu or call 508-286-8207