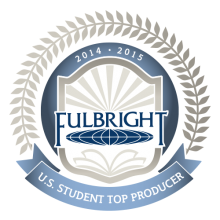 For the 10th consecutive year, Wheaton College has earned a top ranking among the nation's liberal arts colleges for its success in preparing students to win U.S. Fulbright awards for advanced study and work abroad.
The U.S. Department of State recently announced the complete list of colleges and universities that produced the most 2014–2015 Fulbright U.S. students. The Fulbright Program is the U.S. government's flagship international educational exchange program. The success of the top-producing institutions is highlighted in a February 12 article in the Chronicle of Higher Education.
Wheaton's nine Fulbright scholars placed it in a tie with four other institutions (Hamilton, Lewis & Clark, Grinnell and College of the Holy Cross), producing the seventh-most number of scholars among liberal arts schools. The college ranked sixth overall in the percentage of Fulbright nominees who win the award, with a 35 percent success rate. The average success rate among top Fulbright-producing colleges is 25 percent.
"Wheaton's success in preparing students for study and teaching as Fulbright Scholars is great news for our students who win the award, but it also reflects the quality of the educational opportunities we provide to all students," President Dennis M. Hanno said.
"Six months after graduation, ninety-eight percent of the Class of 2014 have found jobs, begun graduate school or are involved in volunteer work and fellowships, such as the Fulbright," Hanno said.
Wheaton's Fulbright Scholars are conducting research, studying and teaching English from Europe to Southeast Asia. The scholars include Nicholas Cicchinelli '14 (Moldova), Jennifer Irving '14 (Malaysia) Bailey McWilliams '14 (Panama), Alexis Nieves '14 (Brazil), Montana Rogers '14 (Bulgaria), Matthew Sexton '14 (Poland), Savannah Tenney '14 (Taiwan) and Ashley Wich '14 (Greece).
Overall, Wheaton students won 14 national scholarships, including two Thomas A. Watson Fellowships (Tianna Lall '14 and Carrie Decker '14), a Beinecke Scholarship (Sarah Estrela '15), a Resolution Fellowship (Jenish Amatya '17), and a 100 Projects for Peace Award (Jorge Clemente de Leon Miranda '14).
Overall, Wheaton's students have won 81 Fulbright awards from 2000 through 2014. The success of Wheaton's students in winning the Fulbright reflects the college's broader achievements in preparing young women and men to excel in earning a wide variety of international scholarships. Since 2000, 184 Wheaton graduates have won awards such as the Rhodes, Marshall and Truman scholarships.