How can communities create positive change without adding to the problem of weight-based prejudice? The key is in examining attitudes about obesity and how they affect the public policy being created to try to deal with the epidemic.
Since the start, a confluence of friendship, talent, luck and connections has driven the success of Grand Street Media, which was created by Wheaton alums and lists several celebrities among its clients.
Hood Court has a new resident: "Key Angel" by the renowned sculptor Guy Dill. The seven-foot metal sculpture, a form composed of graceful looping lines, was donated to the college.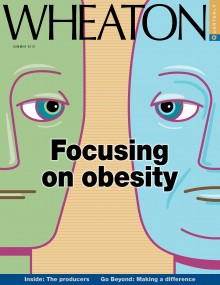 Click the cover image to view the print version
Departments