There are hundreds of families who have made Wheaton a family tradition, sending two or more of their own to the college through the years. Some "legacy students" have a Wheaton lineage dating back to the 19th century. Others have followed in the fresher footsteps of a mother, aunt or sibling. All have a special connection to the college and to each other.
Generosity multiplies. The early successes of Go Beyond: Campaign for Wheaton are inspiring the entire community to rally in support of the college and its students. The campaign's total now stands at $90 million, thanks to the outstanding generosity of alumnae/i, parents and friends.
Last February, Wheaton's Office of Service, Spirituality and Social Responsibility and the Interfaith Alliance co-sponsored a series of writing workshops and conversations based on the radio series "This I Believe." Students, faculty and staff members were invited to write about and share the core beliefs (religious, spiritual or secular) that shape their lives and work in the world. Here, we present a few of the essays written by faculty members.
.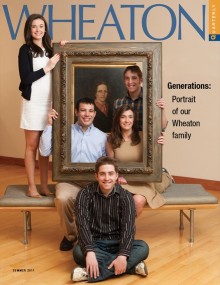 Click the cover image to view the print version
Departments