Professor of Biology Betsey Dyer says she won't eat "presweetened cold cereals, especially of the sort that cause the milk to turn colors." However, just about everything else (including termites) is on the menu for this adventuresome foodie and scientist who savors experimentation. Her stinky summer snack at the Oxford Symposium on Food and Cookery in England last summer is just one example.
Professor of Psychology Gail Sahar went to the Middle East last summer as one of 10 U.S. academics selected for a special program organized by the Palestinian American Research Center and sponsored by the U.S. State Department. Here, she writes about her personal observations and reflects on how the trip connects to her own scholarship.
In the 21st century, there seems to be no such thing as keeping a secret—not even during a war. For example, last fall WikiLeaks released 391,832 secret documents related to the war in Iraq, revealing unprecedented detail about the treatment of detainees, civilian deaths, field operations and how the war is being conducted. It's hard to imagine a time when "secret" meant secret. Wheaton College Archivist Zephorene Stickney takes us back to that time with her look at the critical role some of our students played in helping to decode enemy communications during World War II—in secret.
As a law partner at Patton Boggs LLP in Washington, D.C., Katharine Boyce's days are not typically punctuated by the shake of a feather-tufted spear or the clink of beaded clothing.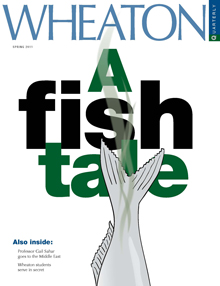 Click the cover image to view the print version
Departments