President Dennis Hanno begins his journey at Wheaton. He learned about the virtues of hard work and the power of education early in life and is now devoted to helping others share in the opportunities that a liberal arts education has to offer.
The eight-year fundraising effort closed on June 30, 2014, with $137,614,399 in gifts and pledges to support student scholarship, faculty and academic programs, and building a new science center and athletic facilities.
Students spent the semester looking beyond the sciences—to religion, philosophy and anthropology, among other disciplines—to consider mankind's role in environmental issues, from climate change and to the extinction of animal species.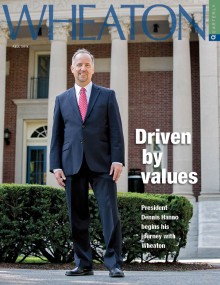 Click the cover image to view the print version
Departments