Can positive reinforcement lead to better results in animal behavior modification? Faculty and students are studying miniature horses to find out.
Nordin was reminded of her field hockey days in the summer of 2010, when she invited local Wheaton families to dinner at her home in Concord, Mass. There she reconnected with a former teammate, Elizabeth Atwood '80, and met Atwood's daughter Julia, then a forward on the Wheaton field hockey team.
Roxanna "Roxy" Azari '10, a Thomas J. Watson Fellow, spent a year traveling to study the meanings ascribed to the veils worn by women in many Islamic countries.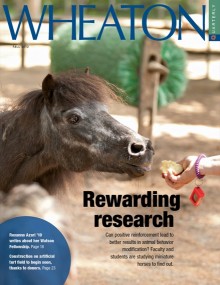 Click the cover image to view the print version
Departments