The Wheaton College Board of Trustees granted tenure to eight faculty members who have demonstrated outstanding abilities as teachers, scholars, and future leaders of the campus community.
The trustees voted on Saturday, Feb. 23 after receiving positive recommendations from the Tenure Committee, chaired by Professor of Political Science Darlene Boroviak.
"The distinctive value of a Wheaton education begins with outstanding faculty," Board Chair Thomas Hollister said after the trustees' unanimous vote. "I speak for the entire Board in saying that these eight professors exemplify the power of exceptional teaching, scholarship and collaboration.
"We are very appreciative for all that they have done for our students so far, and we are looking forward to all that they will do in the years ahead. They represent Wheaton's future."
The eight professors granted tenure are:

M. Thandi Buthelezi, assistant professor of chemistry, studies host/guest molecule interactions that shed light on structure and function which are ubiquitous in biological systems. Her current research is supported by National Science Foundation grants that include funds for student research assistants. She studied at Williams College as an undergraduate and completed doctoral studies at the University of Florida, Gainesville.

Dolita Cathcart, assistant professor of history, specializes in late 19th and early 20th century African American Women's political and social participation. She teaches U.S. history with special attention to issues of race, class, gender and identity. Cathcart attended Harvard-Radcliffe Colleges as an undergraduate, earned an M.A. from the University of Massachusetts, Boston; and completed doctoral studies at Boston College.

M. Teresa Celada, assistant professor of philosophy, teaches ethics, medical ethics and the philosophy of science. She is a scholar on the ethics of international collaborative research with human participants and she guest lectures to research groups around the world. She earned her undergraduate degree at Mt. Holyoke College and earned her master's and doctoral degrees from Brown University.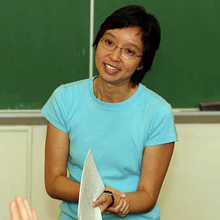 Phoebe Chan, assistant professor of economics, examines the industrial organization of and intellectual property rights issues in the agricultural  biotechnology industry. She also teaches health economics, a cornerstone in the college's public health minor. She earned her undergraduate degree from the University of Michigan-Ann Arbor and her master's and doctoral degrees from Stanford University.
Matthew Evans, assistant professor of chemistry and geology, is a geochemist interested in understanding the interaction between water and rocks at the surface and near-surface of the Earth. His research is funded by National Science Foundation and NASA grants that include funds for student research assistants. Evans earned his undergraduate degree from Middlebury College and his master's and doctoral degrees from Cornell University. 
Touba Ghadessi, assistant professor of art history, is a scholar of Renaissance art with specialties in visual depictions of marginal figures, Renaissance court culture and the history of anatomy. She co-organized the 2011 New England Renaissance Conference and is co-founder of the Wheaton Institute for Interdisciplinary Humanities. She earned her undergraduate degree at Trinity University  and her master's and doctoral degrees from Northwestern University.
Alireza Shomali, assistant professor of political science, studies comparative political theory (Western and Islamic) and the interplay of Middle Eastern politics and religion. He earned his undergraduate degree at the Polytechnic University of Tehran; a master's degree in Sharif University of Technology and his doctoral degree from the Maxwell School of Citizenship, Syracuse University.
M. Gabriela Torres, assistant professor of anthropology and coordinator of the Latin American and Latino/a Studies Program, is a specialist in the anthropology of violence and the state, with research experience in the study of gender, memory and migration. Her current research focuses on the role that Guatemalan print media played in the promotion of gendered state violence. She earned her undergraduate degree from the University of British Columbia, a master's degree from the Latin American Faculty of Social Sciences, Quito, Ecuador; and her doctoral degree from York University.