Exploring immigration politics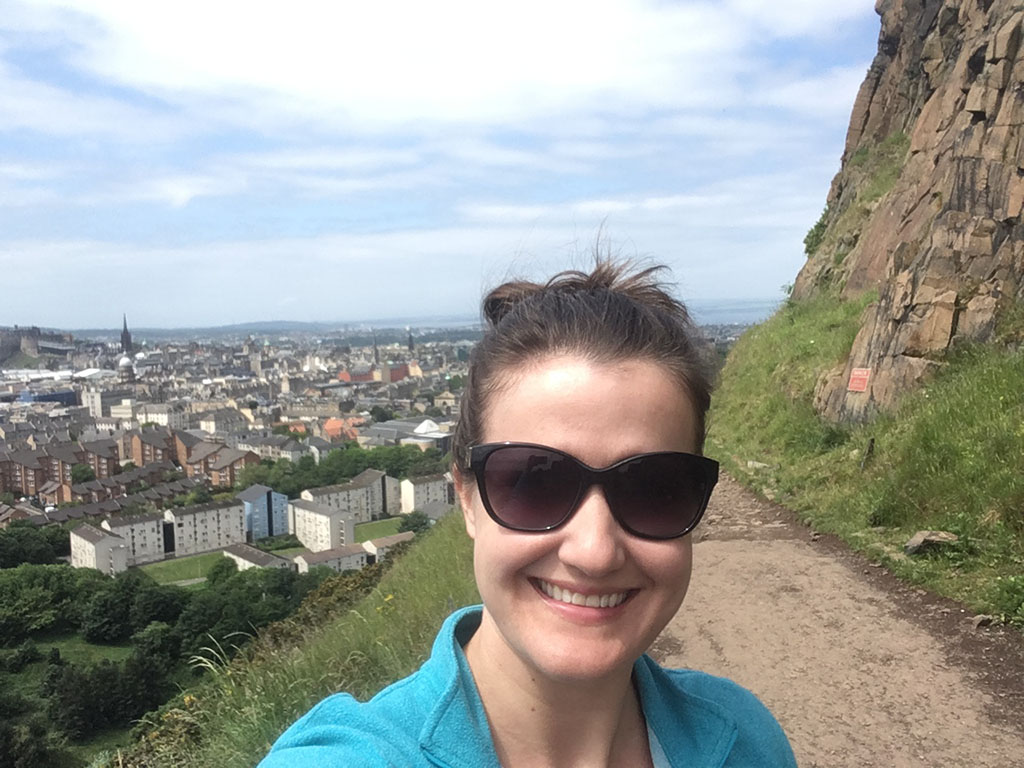 Whiting Fellowship supports professor's research trip to Scotland
Assistant Professor of Political Science Aubrey Westfall will be heading to Edinburgh this spring with support from a Whiting Fellowship to wrap up research for her new book on Scottish immigration policies.
Titled "Jock Tamson's Bairns," the book explores the political climate around migration between the Scottish independence referendum in 2014 and the EU referendum (Brexit) in 2016, as well as the fallout from those decisions up to the current day.
"This research project aims to answer two broad questions: what encourages Scottish politicians to perceive migration as an asset and opportunity at a time when much of Europe and the UK government views it as a liability? And, what opportunities does the Scottish model reveal for policymakers seeking to transform the politics of migration in other contexts?" Westfall said.
The book's title comes from a colloquial phrase used in Scotland, "We're a' Jock Tamson's bairns," which is meant to signify that all citizens share a common ancestry and come from the same place, Westfall explained.
A recent folk song of the same title extends the concept beyond Scotland's borders, adding political weight to the idea by noting that "Jock Tamson's bairns" come from Afghanistan, Iraq, Zimbabwe and beyond, Westfall said.
"So for my book on the politics of immigration in Scotland I thought, what an interesting metaphor for how Scots are talking about immigration—which is that they want more of it, they want to be an inclusive and diverse society," Westfall said. "My argument in the book is that the political elites are actually framing immigration as an essential tool for nation-building … that there may be no future for Scotland without welcoming in these different and diverse immigrants from all over the world."
With immigration issues dominating headlines around the world, Westfall said she does think there are lessons to be learned from Scotland.
"I think the example of Scotland and their politics and pro-immigration stance is something that should be interesting and relevant to progressive forces working within systems of restriction everywhere," Westfall said. "So, for example, in the United States, when you look at cities that are trying to decentralize policymaking to get away from federal restrictions, this provides a kind of model for how you can do that."
But there are also issues within the Scottish system she hopes politicians will consider.
"When I did an analysis of public opinion, I found that Scots themselves are not that pro-immigration. If anything they're slightly less than negative, but mostly ambivalent, and that's a dangerous place to be. They're vulnerable for activation in either direction," Westfall said. "There's a lot of grassroots work that needs to be done if they want to envision this cosmopolitan future for Scotland. That's true everywhere."
Westfall will spend four weeks in Scotland, meeting with major immigration policy stakeholders—politicians, refugee activists and others. She also will take advantage of  research materials that are not available in the U.S., at places such as the University of Edinburgh. And, of course, she'll spend a lot of time writing.
Along with supporting travel and research, the fellowship from the Marion and Jasper Whiting Foundation encourages faculty to incorporate their work into the classroom—something Westfall does regularly. Last year, she wrote portions of the book alongside her students during the "Nations and Nationalism" senior seminar, inviting them into the critique process, and she recently led a Brexit simulation in her "European Integration" course. Next year, she is considering teaching a class on the politics of international migration.
Westfall said students really seem to enjoy when she is able to bring people she's met into the classroom, whether through an in-class phone call or assigning an article they've written.
"It personalizes the text and shows students this is a real person, who I've had coffee with and that I can tell a story about. It makes the material come alive," she said.
Westfall also has brought individual students into her work, with a series of student interns funded through Wheaton Research Partnerships and other sources. Kaitlyn Megathlin '20 has worked on the book project for three semesters and students Zuzka Czerw '20, Will Entwisle '21 and Zachary Stempel '20 have also worked closely with Westfall, helping her transcribe and code interviews and conduct research.
"I think seeing the research process is valuable to students—how long it takes, the many different steps and elements that go into a project. It models that behavior for if they want to do an honors thesis or if they're thinking about graduate school, Westfall said. 'It also gives them quantifiable skills that they can point to when an employer asks if they have experience."