Center for Collaborative Teaching and Learning opens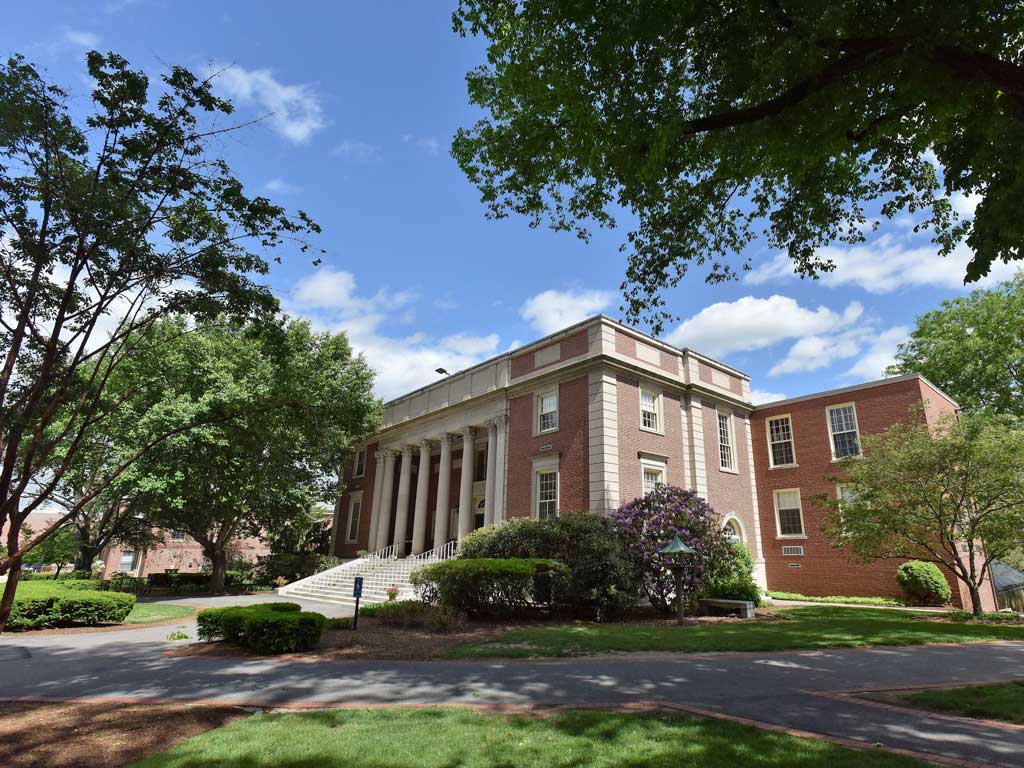 The focus is on building partnerships in education
Learning and teaching happen everywhere at Wheaton—in classrooms, labs and residence halls; on athletic fields and during student-run activities and Filene Center advising sessions.
The new Center for Collaborative Teaching and Learning (CCTL) aims to build on the college's holistic approach to education, helping to grow a rigorous and culturally diverse learning environment to promote student success.
"It's really important that we consider what's happening both inside the classroom and outside of it, and we develop a more holistic view of the teaching and learning taking place on our campus," said Cary Gouldin, a co-director of the center and the humanities liaison in the library. "That will help us create an institution that can fully realize our goals to create a transformative learning experience."
The CCTL is focused on fostering partnerships in teaching and learning among faculty, students and staff to achieve that goal, according to the leaders who have worked over the past year to bring the center into existence.
"We want to foster a model of collaboration where students are brought into the educational process as partners from the start, not just in the classroom, but as partners in the design of the institution," said Professor of Anthropology M. Gabriela Torres, who is a co-director of the new center. "In prior years, students have been brought in as part of the consultation process and students are asked: 'Is this right?' And they will say 'yes,' 'no' or whatever. We want to ask students to partner from the very beginning."
The center's co-directors began their work over the summer, developing events and programs, including the creation of toolkits of evidence-based teaching techniques that faculty members can use to enhance student engagement in their learning.
One aspect of the toolkit project—videos that illustrate the activities and feature students and faculty reflecting on their experiences—exemplifies the kind of collaboration the center hopes to foster. Dominick Torres '20, who serves on the center's steering committee, has taken the lead in turning the idea into reality.
"If students can take on some responsibility and ownership of teaching and learning, they are more inclined to be deeply engaged," said Torres, a film and new media studies major. "And through collaboration, we can really stretch students into being more like a colleague. That's really such a powerful thing—especially as we prepare to move from campus into work and careers."
"This gives students a real voice in their education," said Fatou Diallo '19, who also is on the steering committee. "We can actually be involved in making things happen; we won't be leaving it to our professor—or the provost or the president—to do it. And that will increase students' engagement in their Wheaton education."
The center has engaged a group of staff, faculty and even a student in a semester-long learning community that will look at how algorithms and data perpetuate inequality and bias and consider how these insights can be incorporated into teaching and learning at the college. Further, the group will look for opportunities for new interdisciplinary collaborations in this area. Participants in this effort represent a wide range of areas, from Advising, Institutional Research, Admissions, and Library as well as Math, Computer Science, English and Sociology.
In addition to promoting collaboration, the CCTL steering committee also intends to bring information about "best practices" to the campus to spark conversations and experimentation with evidence-based teaching and learning strategies.
For its inaugural event, the CCTL will welcome educator and author Peter Felten, professor of history and executive director of the center for Engaged Learning at Elon University, on Wednesday, Feb. 6, to talk about the book he co-authored, The Undergraduate Experience: Focusing Institutions on What Matters Most, which identifies six core themes that matter most for student success. In addition to the public lecture, Felten will meet with the Student Government Association, the Curriculum Design Team and the Wheaton Inclusive STEM Excellence leadership group, among others.
On Wednesday, March 20, the center will host Tia Brown McNair, vice president in the Office of Diversity, Equity, and Student Success at Association of American Colleges and Universities, for a public event as well as small-group meetings. The CCTL is partnering with the Marshall Center for Intercultural Learning to organize a book club reading of McNair's book, "Becoming a Student Ready College: A New Culture of Leadership for Student Success."
In the future, the center also hopes to facilitate sharing of successful teaching and learning approaches developed by Wheaton faculty, staff and students through scholarly conferences and journals. Professor of English Claire Buck, a co-director of the CCTL, said that Wheaton has a long history of innovation in education to build upon.
"Wheaton's commitment to innovative and inclusive pedagogies goes back a long way. The development of a gender-balanced curriculum in 1982 was a signature initiative," Professor of English Claire Buck, a co-director of the CCTL said. "The Center for Collaborative Teaching and Learning will build on this tradition, investing in developments at the college and promoting Wheaton's reputation as a leader."