Astronomy professor Tim Barker traces his love of astronomy back to his childhood, growing up on Cape Cod, and to amateur astronomer Corwin Preshio, who lived near his family home.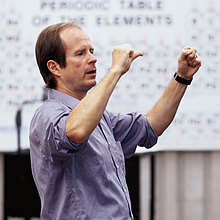 That's the back story behind the role that Barker has played in helping to establish an observatory that features the largest telescope on the Cape and perhaps the largest in all of southeastern Massachusetts.
The Harwich Elementary School's new observatory received a big boost when Wheaton's astronomy professor decided to donate his giant, 32-inch telescope to the fledgling facility, which will serve public school children and families in Harwich and neighboring towns. The Associated Press wrote about the new facility and Barker's role in making it possible.
"I've owned the telescope for about 12 years at my house on the Cape, and I've taken several Wheaton classes to use it there," Barker said. "The sky at my home on the Cape has become increasingly light polluted, however, and the telescope was very difficult to operate.  The location in Harwich is darker, and the storage area for it there makes it much easier to use."
The professor said that his personal telescope would not have fit in the college's new observatory, which will open in the fall and will feature seven remotely operated digital telescopes as well as equipment for manual viewing.
Like other star buffs on the Cape, Barker relishes the opportunity to use his former telescope now in the Harwich schools. "I took my First Year Seminar there last October, and they had a wonderful experience looking through it.  I'm going to take my FYS there again this year."