Bake sales, babysitting, basketball
Students make way to New Orleans one fundraiser at a time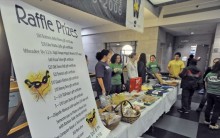 Twenty thousand dollars. That's how much money students needed to raise in one semester to go to New Orleans to help with post–Hurricane Katrina restoration during January break, as they have done for the past five years.
Although the task may have seemed daunting, they were relentless. How did they do it?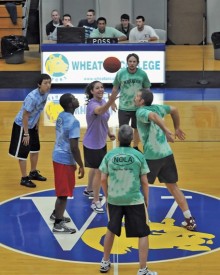 In addition to receiving money from the Student Government Association and individual donations this academic year, they held a babysitting day, collected items from local businesses to raffle off at a holiday craft fair, sold items at the holiday craft fair, stood outside local businesses asking for donations, sold snacks at campus performances and movie nights, wrapped gifts at a bookstore, and, the biggie, sponsored the annual faculty/staff-versus-students basketball game.
Was all the hard work to get to work hard worth it?
Definitely, says Heather Sykes '12, who is president of the Alternative Winter Break Trip to New Orleans. This was her third year going to help the Gulf region, which was rocked by the hurricane in 2005, and her second year participating as a leader. Laura Tschop '07, Greta Phillips '09 and Nichole Hunter '09 were the original masterminds behind the trip, with logistical, fundraising  and staffing support over the years from the Office of Service, Spirituality and Social Responsibility. Each year 26 to 35 students, staff and faculty members go to New Orleans to build playgrounds, paint houses, clean up, and do anything else that's requested.
"It has been wonderful to see the progression of the rebuilding efforts in New Orleans over the last three years. There has definitely been improvement, and many families have been given back their homes," says Sykes, a psychology major. "My favorite story is from my first year: We met a man in the Lower 9th Ward. His mother and granddaughter had drowned during Katrina, and he was living in a FEMA trailer. We stopped during our disaster tour to look at the memorial in front of his trailer that he had created for his loved ones, and he came out to talk with us. He showed us that all that was left of his house were cement blocks that marked its four corners and the front steps, and told us his story. He thanked us for coming to help with the rebuilding efforts, saying that there would be no progress if it weren't for help from volunteers. And he expressed his frustrations with the lack of help from the government. He then excitedly told us that he was going to get a Make It Right house. The next year we again stopped by his trailer and there was a beautiful house where his front steps had been. It was incredibly moving."
2011 participants: Gaelle Abraham '13, Kathleen Adler '12 (student leader), Alexandra Barie '13, KarryAnne Belanger '14, Sarah Bertrand '11, Jill Boucher '11, Taylor Brome '13, Matthew Brousseau '11' Michaela Bunker '11, Melissa Carter '11, Eric Drewniak '11, Jessie Durand, Wheaton technical support specialist, Kara Fierro '12 (student leader), Jared Floch '11, Judith Garcia '13, Meghan Geppner '12 (student leader), Heather Gordon '13, Ian Greenstein '11 (student leader), Jennifer Irving '14, Stephanie Jones '11, Jessica Kuszaj, Wheaton assistant visual resources curator (staff advisor), Hilary Little '12 (student leader), Elizabeth Preston '13, Amanda Purnhagen '13, Juan Riano '14, Heather Sykes '12 (student leader)
By the numbers 2007–2011
2 Dump truck loads of mud moved by hand in one day in 2009
5 Playgrounds rebuilt in 2007
8 Collaborations with New Orleans organizations
18 Orders of beignets at Café du Monde in 2011
20 Wheaton bake sales in 2010 to fund January 2011 trip
40+ Gallons of primer used in four days in 2011
48 Animals helped (puppies washed, dogs walked, cat cages cleaned) in 2008
50 Walls/ceilings torn down in 2010
146 Total people who have participated since 2007
1,500 Compact fluorescent lightbulbs installed in one day in 2008
6,480 Total hours worked since 2007
$90,337 Total money raised, including SGA funding, since 2007