(NEWS) June 30, 2020
A late surge in giving propelled Wheaton's three-year fundraising initiative, Creating Possibility, to a grand total of $52.3 million in new gifts and pledges from 7500 donors, exceeding the $50 million goal by four percent.
During the last three years, Wheaton experienced steady growth in annual giving through the Wheaton Fund, an increase in planned gifts, higher levels of giving to athletics, and an increase of support from corporations and foundations.
These higher levels of support help to underwrite Wheaton's Strategic Plan and fulfill its mission to provide a transformative liberal arts education for intellectually curious students in a collaborative, academically vibrant residential community that values a diverse world.
You can read more about Creating Possibility  in the fall issue of Wheaton Magazine.
---
Creating Possibility is a three-year initiative to generate $50 million in support of core institutional priorities.
People
Investing in our world-class faculty through retention and recruitment efforts, and supporting our accomplished students through scholarships and internships.
Programs
Enhancing our curricular and co-curricular programs in experiential learning, leadership, and social entrepreneurship. Establishing a new Center for Collaborative Teaching and Learning.
Place
Advancing a strategic campus renewal plan for Wheaton's living and learning spaces.
The Wheaton Fund
Achieving higher levels of current-use giving through sustainable growth of donors and dollars.
On this page
Message from the President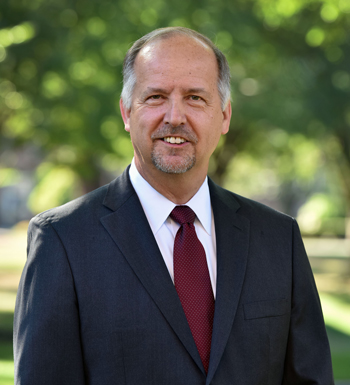 What distinguishes Wheaton today and historically is our people, the breadth of our programs, and our place in the world—one of the most beautiful campuses you will ever see.
Our bold near-term goals and priorities are informed by a strategic plan that is designed for impact. With a determined effort from our community of students, faculty and staff, alumni, family, and friends we will become the leading liberal arts institution in preparing students to create innovative solutions to big challenges—and to act on them.
For me, creating possibility means providing a cohesive academic and co-curricular learning experience at Wheaton College that empowers our students to discover their passion, to learn with purpose, and to fulfill their potential. I invite you to be a part of our efforts to make this great institution even greater.
Dennis M. Hanno, President
People
A world-class faculty and an empowered student body
Wheaton's greatest capital will always be the people in our vibrant community. Our accomplished students take part in graduate-level research. They seek new challenges in the classroom, in co-curricular activities, and beyond campus through volunteer opportunities, study abroad programs, and impactful paid internships. Our celebrated faculty are leaders in their field of study whose commitment to undergraduate classroom teaching is equaled by the passion they bring to their research. They inspire their students to explore, and they offer their students opportunities to collaborate on original research and new experiments
"One of the most important things I've learned at Wheaton is that our faculty are partners in student learning. They seek new ways to provide students with opportunities to collaborate, to do more in the classroom, in the lab, and in field research."

Renée T. White, Provost
Engaging students as scientists
Laura Ekstrom, an assistant professor of biology who spearheaded Wheaton's first Summit for Women in STEM, is interested in animal locomotion. In addition to studying sharks, skates, and stingrays, she is looking at the composition and structure of muscles in cane toads, which use their fore limbs as shock absorbers and their hind limbs as motors.
"These two functions place different demands on the muscles," Professor Ekstrom explains. "Motor action is quick. The landing action is long and slow. With the cane toad, we are looking at collagen content in the hind limb muscles versus the fore limb muscles to understand the relation between collagen and muscle function. This research is relatively new. We haven't done this cellular investigation before."
Rebecca Olivieri '18 says she was a "a naïve scientist" at the beginning of her summer research project in Professor Ekstrom's lab. "We spent a good part of the summer establishing how we were going to construct the experiment, establishing protocols," she says. "We knew what we wanted to look for but didn't know how to find it. We had to obtain a biopsy of a cane toad's tricep and bicep, and learn how to freeze the muscle for cryosectioning. We tested a few ways and learned that liquid nitrogen was best. I truly became a scientist over the summer. This project was the basis for my senior honors thesis."
Programs
Sharpening the Wheaton Edge
On campus, we are always working to update and enhance Wheaton's curricular and co-curricular offerings. We are strengthening campus-wide collaboration and experimentation so that the college can readily adapt to changes in practice, technology and pedagogy. Faculty and librarians are working on plans for a new Center for Teaching and Learning, focusing on pedagogy and student outcomes.
By guaranteeing the funding for an internship, research position, or other experiential learning opportunity for every student before they start their senior year, Wheaton has formalized our commitment to experiential learning. Internships are an integral part of the holistic approach that enables our students to follow their passion and achieve success after graduation.
With support from the Wheaton Fellows Program, Sarah Maliarik '20 interned with the Marin Summer Theater in California. Her role as assistant director for a production of Heathers: The Musical, based on the '80s cult movie, gave her the opportunity to learn from production designers about costuming, lighting, sound, choreography and music.
"From rehearsals and performances to set strike, I developed new skills and relationships that will help me in the future. Theatre allows for the development of so many important life skills. I have a wide variety of interests. I love theatre, especially directing. I want to continue to develop as a theatre maker in all aspects of theatre."

Sarah Maliarik '20
Posse Scholar Tariq Martin '20, a sociology major with a minor in business, is captain of Stomping Out Loud Everytime (S.O.L.E), the step dance team at Wheaton. He's an Orientation Assistant and a big fan of the Marshall Center for Intercultural Learning. His internship at Bloomberg over two summers opened his eyes to the connections between sociology, business and community-based non-profit work.
"My parents always told me how important it was to get a liberal arts background. That was my driving factor in choosing Wheaton. It's been easy to get involved in different activities on campus."

Tariq Martin '20
Place
Where community inspires and potential thrives
Wheaton College is a truly unique place, offering students a transformative educational experience in an inclusive culture, and providing a world-class faculty with the resources necessary to pursue the frontiers of their disciplines.
"What makes Wheaton such a special place is the thought and care that goes into stewarding our beautiful campus to ensure that it remains true to its history yet contemporary in all aspect of technology and sustainability. The strategic plan for the Wheaton campus is all about growth and renewal. A new residence hall is on the immediate horizon, and enhancements are planned for key learning spaces as well as recreational and sports facilities."

Keith J. Figlioli '93, Trustee
Building on successful campus initiatives like the Mars Center for Science and Technology, significant renovations of our campus dining facilities, and the Diane C. Nordin Turf Field, we are thoughtfully planning innovative, immersive and interactive living and learning spaces that embody our values and that connect to our mission. An enhanced Student Center will provide a contemporary space where students can gather both socially and academically.
"There has been a revitalization of enthusiasm since President Hanno arrived. He has built on the commitment to diversity that began with President Marshall. We also now have a very strong, and broader, international contingent."

Alex Bloom, Professor of History
Wheaton Fund
Invest Today. Inspire Tomorrow.
The Wheaton Fund is about right now. When you demonstrate your support through the Wheaton Fund, you ensure a wide variety of student learning experiences, both in and out of the classroom. You make it possible for our faculty to advance their teaching and research.
Thanks to your participation, the Wheaton Fund is realizing record-levels of giving. That translates into support for students from every walk of life, for innovative faculty research projects, and for campus life initiatives that are both essential and inspiring.
"I wanted to go to a school where I wasn't locked in to my major. At Wheaton, I take every opportunity I can get to branch outside of my science curriculum."

Joey Batson '19 (Neuroscience and German double major)
You can make a difference
The Wheaton Fund is a "Possibility Fund" that needs gifts of every size (every year) to accelerate our momentum. For example, three donors making gifts of $5,000 could support the creation of one new smart classroom, while five donors contributing $10,000 each could support post-season competition for student-athletes.
Leadership

A Community of Distinction
"In ways both measurable and inestimable, Wheaton College has shaped our lives, prepared us for our careers, and helped to form our values. It is an honor for me to be part of such an enriching community and to serve alongside trustees who bring to their roles a world of experience and deep affection for Wheaton. The strength of our institution today—fiscally and programmatically—is a reflection of Wheaton's historic commitment to excellence in the liberal arts. And it is why we continue to attract such promising students. At this particular moment in Wheaton's history, we have an opportunity to raise the bar, to take our institution to new heights. To do this we must sustain our commitment to excellence. We must seek and find new ways as alumni, family and friends to engage in the life of Wheaton College through volunteer opportunities and gifts to support our students, faculty and campus. It is our time to create possibility for today's Wheaton."

Janet Lindholm Lebovitz '72, Chair, Board of Trustees
Giving Opportunities
Wheaton Fund
Goal: $15.6 Million (total three-year goal)
A $5 million Wheaton Fund—sustained year after year—would provide the equivalent spending power of a $100 million endowment every year.
Naming opportunities include:
Wheaton Fund Scholarships: $25,000 over 5 years
Wheaton Fund Internships: $15,000–$25,000 over 5 years
---
People
Goal: $5 – $7.4 million
You can invest in our students and faculty
To recruit, develop, and retain an exceptional faculty in a very competitive environment, Wheaton needs resources for lab start-up packages and to fund travel to conferences near and far where our faculty present their research and network with other thought-leaders in their disciplines. To ensure that today's Wheaton students graduate without mortgaging their future and to ensure a diverse and inclusive campus community, we must increase funding for scholarships, research opportunities, athletics, and out-of-class learning experiences.
For information on endowing a chair or visiting professorship, please contact Merritt Crowley, Vice President for College Advancement at 508.286.3464.
Named Student Faculty Innovation Funds: $50,000–$250,000 each / $2.5 Million to endow
Excellence Funds: $10,000–$50,000
Named Endowed Scholarships: $100,000
---
Programs
Goal: $4–$6.5 Million
You can advance the mission
Wheaton is committed to offering a progressive liberal arts education for all of our students. We accomplish this through small class sizes, a 10:1 student to faculty ratio, rigorous first-year seminars, interdisciplinary collaborative opportunities with faculty, and innovative co-curricular programming.
Center for Collaborative Teaching & Learning: $2,000,000 to name and endow center
Visiting Fellow Speakers Program: $50,000–$250,000
Center for Social Justice & Community Impact: $25,000–$100,000 / $1,500,000 to name & endow
Center for Religious & Spiritual Life: $25,000–$50,000 / $1,000,000 to name & endow
Named Endowed Wheaton Edge Internships:  $100,000
---
Place
Goals: $18 – $20.5 million for new construction and renovations
You can shape the place that shaped you
Our campus provides us all with an amazing place to live, work, and study. Continued strategic investment in residential and learning facilities reinforces the meaning of community, helps us maintain our competitive edge in recruiting new faculty and attracting students, and connects us all in ways that just can't happen at any other place.
Current Naming Opportunities
New Residence Hall (Open Fall 2019): Under Discussion
Student Center: Under Discussion
Student Financial Services Ctr. Under Discussion
Admissions Building: Under Discussion
Reception Area (Admissions): $500,000
Smart Classrooms: $25,000–$250,000
Conference Rooms: $50,000+
Presentation Spaces: $250,000–$1,000,000
Team Teaching Spaces: $50,000–$250,000
Student Study Areas: $25,000–$50,000
Lecture Halls: $100,000–$500,000
Faculty Offices: $10,000–$75,000