Thomas M. Sanderson '92 remarks
May 20, 2017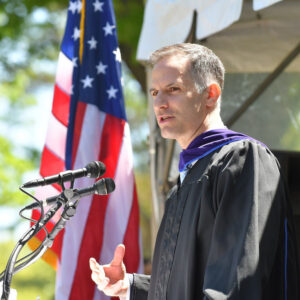 As President Hanno and I were walking in on this incredibly perfect day, at this wonderful institution that is a part of my family, I noticed the unbelievable diversity of the crowd, of the students, and it reminded me of a very important moment in my life, which was on probably the one-thousandth occasion I flew into Washington Dulles Airport after a trip.
As I walked up into the line, the line that divides—Americans and Canadians to the right and all other international visitors to the left—as I stood in the American and Canadian line, I turned around and looked at the crowd behind me of Americans, almost all Americans, then at crowds of all the international visitors, and it struck me in an incredible way. Both crowds looked exactly alike; it was really amazing to see the American crowd matched the international crowd.
That gave me an incredible feeling. That was probably five years ago. And given the anti-immigration rhetoric that we've heard a lot about in the last few months and couple of years, it just made me feel so good as an American to see that and to see the diversity. And I see it right out here in front of me. I know this is an international crowd. You are here in America, welcome. I know many of you may be leaving, but it has been great to have your contributions here in the United States at Wheaton College. Thank you for that.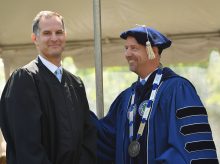 So, once again, thank you, President Hanno, Wheaton trustees, Class of 1967, and the Class of 2017, for this extraordinary honor. And to my beloved Class of 1992, and to the rest of Wheaton College family here today. Thank you, Class of 1992. I see you everywhere.
Congratulations, graduates. What an accomplishment to make it through four years of papers, exams, internships and gym class.
Thank you, again, President Hanno. This is such an honor for me, and I am tremendously grateful for it.
President Hanno, I would like to highlight that you have demonstrated superb leadership during some difficult times for our nation. I applaud you and the school for establishing a refugee scholarship here at Wheaton. Thank you very much.
I am also greatly humbled to join my fellow honorary degree recipients, Russell Goings, who is watching online, and Susan Stautberg, Class of 1967. After hearing what both of them have done, I realize I have a lot to do in the next 25 years.
So many of my classmates could be in my shoes today. I have been impressed and proud of what the Class of 1992 has accomplished.
Thank you to my wonderful mom and dad, who put me through Wheaton, and my brothers and sister whose have supported me throughout my life, and were all here with me 25 years ago today. I am joined now by my sister Holly and brother David. I would like to dedicate today's remarks to my late and dear brother, Larry Sanderson Jr.
Finally, let me recognize Professor Emerita Darlene Boroviak. Among the many remarkable professors I had on campus, none equaled the impact of this amazing person. Thank you, Darlene.
Late August 1988 was a time of great change for Wheaton College. A bright-eyed group of young men and women entered this beautiful campus as first-year students in every sense of the word, but most importantly in that we represented the first coeducational class at Wheaton.
We looked upon the upper class women with awe, respect and a little bit of fear. Seriously. But they treated us well and took us into the Wheaton family. And today many of us have lifelong friends among those women who also made the transition with us.
We felt an immediate bond with this storied institution that opened its doors as a female seminary and 1834, and as a four-year liberal arts college in 1912. I take great pride in Wheaton's history and in its role in providing a transformative experience to all who come here to learn.
But coeducation was not the only dramatic change that Wheaton students would experience. We all sat in dormitory parlors on November 9, 1989, as pickaxes and bare hands brought down the Berlin Wall, revealing the stunned face of East German border guards who, like everyone around the globe, realized that a new day was dawning.
Living a few miles behind that wall in the East was an irrepressible 39-year-old chemist named Angela Kasner, who today is German's deeply respected chancellor, Angela Merkel.
This was all incredibly exciting for me. Like graduating seniors today, I chose Wheaton for many reasons, but the most important among them was that Wheaton offered an international relations major. I was fortunate in that I knew what I wanted to do at an early age.
The year was 1983, and I was jolted awake to the drama of Cold War when, in the span of six weeks, the Soviet Union shot down a commercial airliner that strayed into its airspace, and the U.S. lost 241 Marines in a single terrorist bombing in Beirut, Lebanon.
I was afraid, but intensely drawn to what I saw on TV, and I wanted to know more. Coursework and student activities at Wheaton fed my interest in countless ways. Classes on American, Chinese and Soviet foreign policy, and on post-Colonial Africa, illuminated the actors, strategies and issues defining the global landscape. I absolutely loved this learning environment and could not wait to take the next step.
Professors Malepe, Wilson, Nash and Boroviak helped us understand a global environment that was changing right under our feet. Only six months before we graduated, the Soviet Union dissolved and 15 new nations emerged. I recognize as well that, for the Class of 2017, the ground is shifting under your feet, not only abroad but here at home.
My Wheaton education carried me to Washington, D.C., for a few years, then on to graduate school at Tufts University. I reentered the professional world in 1998, right as Al-Qaeda struck two American embassies in East Africa. The September 11 attacks then loudly punctuated my career, and all of our lives, in 2001. Once again, I was witnessing a dramatic transformation—only now I was directly involved with the issue. Soon thereafter, I move on to the Center for Strategic and International Studies.
What I learned at Wheaton remains an important part of my professional and personal foundation. Perhaps, like some of those in the Class of 2017, the first international students I met were here at Wheaton. Equally important as that international exposure was the intellectual curiosity that Wheaton fostered, and which opened me to different perspectives that proved fundamental to my future work.
In the past 15 years, I have interviewed thousands of actors across 70 countries and recognized that everyone has something to say, and it's important to listen and engage.
Over the past four years at Wheaton you have, no doubt, learned many things. Some of the most important things I have learned over the past 25 years include: Hard work pays off. Now, you learned that at Wheaton for sure. That's old hat to you now, but it merits mentioning. It is so important. The harder you work, the more you will accomplish. Writing: Just throw words on the page. Do not wait for perfection to appear. Struggling in mistakes: Things can get bad, but there is always a way forward. I have made many mistakes, but every day has a new dawn, and you can move forward. Alternative views: Get fresh, diverse eyes on your writing, your ideas, and on your plans. Humility and personal responsibility: They are indispensable in life. Show up. You will miss remarkable people and opportunities if you do not.
Plan A and Plan B: Our world is complex. There is no consequence-free Plan A and there is not often a Plan B. Go with your decision and then repair and refine once you are underway. Prepare—and here is where I will go off script just a little bit. Spring break senior year, 1992: My best friend, Stephen Larkin, and I, go to Washington, D.C., to try to find jobs. Now, Stephen prepared. I did not. We got out of the Metro on Capitol Hill and I was very close to tears. I can tell you, I was so upset for myself for not preparing. Stephen walked off to his appointments. I walked to Union Station, went to a pay phone, and grabbed a phonebook. (You may not know what those things are, but they are devices and resources of an older time.) I actually just went through, looked up foreign affairs organizations, and cold-called them right there and got interviews that afternoon. Do not do that. I got lucky. I got an internship for $6 an hour at the Citizens' Network for Foreign Affairs in Washington, D.C., that turned into a job, and 25 years later here I am. But prepare. That's absolutely essential.
My final piece of advice: Friends and family—Keep them and make them. They are absolutely essential to success and happiness. Wheaton is a part of your family now, so keep in touch, Class of 2017.
A couple of experiences in the field that have provided some indelible memories for me, and there have been many: In 2015, I interviewed a trafficker on the Syrian-Turkey border, a man known for providing passports and passage for any and all who wanted to move about the region and beyond. This grizzled 60-year-old man, who never completed any formal schooling, asked my fixer, "What does Tom really do?" (Something my own family and friends ask me from time to time.) Knowing that the concept of a think tank would not cut it, I said, "I'm a professor," on account of the courses that I do teach in Washington, D.C.
His reply is, "Isn't this interesting? The illiterate is teaching the professor."
I recognized that as a moment to curry favor with him and replied with some of the few Arabic words that I knew. [Arabic spoken]. "Thank you, teacher. Thank you, professor." It was a moment to show respect and to recognize someone's value, no matter their background.
Another memorable moment came in Tajikistan in 2009. (By the way, when I started to mention places like Tajikistan and Kyrgyzstan to some people in my travels in the U.S., they insisted that I made up those countries. That was shocking to me.) In 2009, I entered a ramshackle airport with my colleague in Dushanbe to fly up to Central Asia's volatile Fergana Valley, as my colleague and I walked through a non-working metal detector—and there are many around the world—the security guard said to me, "Gun? Bomb? Drug?" Not knowing whether having those in my possession made me a threat or rather a legitimately equipped passenger, I said no and he let me on the flight. Needless to say, we did a lot of eyeballing to see who went along for that ride.
So what is on the horizon for the Class of 2017? Well, more risk and opportunity than you can imagine. The former U.K. foreign secretary, William Hague, made an important observation in 2014, in that the world was experiencing systemic disorder. We weren't having flare-ups inside of an order, we had systemic disorder. The alarm bell for that disorder sounded when we watched the Berlin Wall fall in November 1989. Yes, that was a joyous occasion, as was the Arab Spring that began in late 2010. But chaos has ensued. The culprits are many, but bad governance, intolerance and deprivation are at the top of the list.
There are countless ways for you to play a role in finding solutions. Problems invite innovation, energy, and attention, and the Class of 2017, you have all of that. Pursue a role that makes a difference wherever you are in whatever you're doing. The ripple effects will be tremendous.
Graduates of the Class of 2017, there is a seat open on the next fight to the Fergana Valley, or any other place you want to get to in life. And here is how you can book your ticket: Read, think, travel, engage, write. Educate yourself and others. Learning does not end here today in the Dimple.
Your time at Wheaton was an enabler. There is a lot more to discover and an immense amount to do. Nineteen-eighty-eight was a watershed year for Wheaton College. Our alma mater has prepared you well for your transformative moments, and there are many ahead.
Good luck to you all. Keep in touch with your families at home and here at Wheaton. Thank you.
Related Links